On the heels of the Sportspace concept car, the new Kia Optima made its inaugural public debut at the New York Auto Show.
During the official launching event, Kia has released a series of high-quality pictures, as well as the full details on the car's engine specs, dimensions and range of exterior colors.
Kia Motors America has also announced the Kia Optima MSRP (pricing).
Here are more details.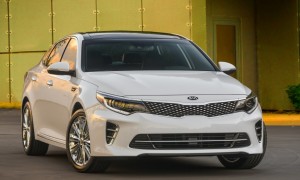 The vehicle starts at $21,840 and is available in 5 different trim levels, including the base LX, LX 1.6T, EX, and fully loaded SX and SXL.
Two engines have carried over from the previous Optima model and have been joined by a highly-advanced 1,6L turbo unit for the 2016 model year.
The carry-overs are a 2.4L GDI and a 2.0L GDI turbo four-cylinder units, delivering 185 and 247 horsepower, respectively, through a six-speed automatic to the front.
The third engine (first for Optima) is a 178-horsepower 1.6L turbo unit paired with a seven-speed dual-clutch gearbox – also found in the 2016 Hyundai Sonata sedan.
Inside, soft-touch materials, metallic accents, real stitching in the dash and door panels, and cloth or leather seating await occupants.
Meanwhile, Kia's UVO connected-vehicle system comes with four new features not previously found in the Optima, including curfew alert and geo-fencing.
The Optima itself is the pilot vehicle for the brand's introduction of Android Auto and Apple CarPlay systems, allowing iPhone and Android users to use their smartphones in conjunction with UVO.
The all-new Optima's roomier, more luxurious cabin features an impressive level of craftsmanship that will come standard across five trim levels – LX, LX Turbo, EX, SX Turbo and SXL.
2016 Kia Optima colors
Kia also revealed 3 new paint shades to be added to the 2016 Kia Optima color palette.
As with its predecessor, the all-new 2016 Optima is also manufactures at the automaker's U.S. manufacturing plant in West Point, Georgia.
October news update: Kia US plant commences mass production of the new Optima sedan!