What to expect from the 2017 Optima sedan and when does it arrive to your local Kia dealership?
Kia has released the new generation Optima 4-door sedan at the New York Auto Show and we were one of the first to show you the official pictures of the fully redesigned midsize sedan.
The vehicle has been scheduled to go on sale in the USA in the fourth quarter of 2015, branded as a 2016 model year.
Hundreeds of news articles, reviews and videos about the current 2016 Optima model are available on the world wide web, but there's hardly any word published on the 2017 Optima model.
Inspite of that, we have found some interesting facts you need to know when in the market for the 2017 Kia Optima.
2017 Kia Optima release date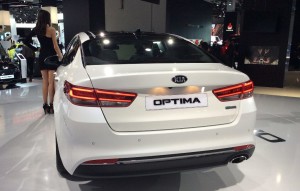 The 2017 Kia Optima is expected to go on sale in the second half of 2016 and will not receive any major changes and improvements.
As mentioned above, the 4th-generation Optima has just been fully revamped, so it needs no major changes or improvements for the 2017 model year.
The hot-selling midsize sedan has received major improvements in all key areas, including the design, comfort and powertrain technology.
However, that doesn't mean Kia will keep all the things the same for the upcoming model year. In fact, the automaker may introduce minor upgrades to the existing trim levels and packages for 2017.
List of possible changes:
trim levels may get upgraded and new features could be offered
the 2017 Optima color range by adding one or two new paint shades
Optima plug-in hybrid version will be launched (confirmed!)
Optima wagon will be launched in Europe (US launch not confirmed yet)
We will keep this page updated, so stay tuned for more news about the 2017 Kia Optima changes, dealership arrival date and other importan facts.