Things to know about the spare tire kit for Kia Optima & Optima hybrid models.
There are plenty of things that can go wrong with your vehicle at any given time, many of which you can do little about.
The one problem that is in your control is when you experience a flat tire.
Even if you know nothing about cars, you are probably still able to change a tire, assuming of course that you have a spare donut tire in the trunk.
What is surprising is that so many people don't think to have a spare in there, but that can easily be rectified by adding a spare tire kit to your Kia car.
The good news for owners of the Kia Optima is that a spare tire kit does not need to be a massive investment, and you can in fact pick one up pretty cheaply from online store such as the Amazon.
Cost of Kia Optima spare tire kit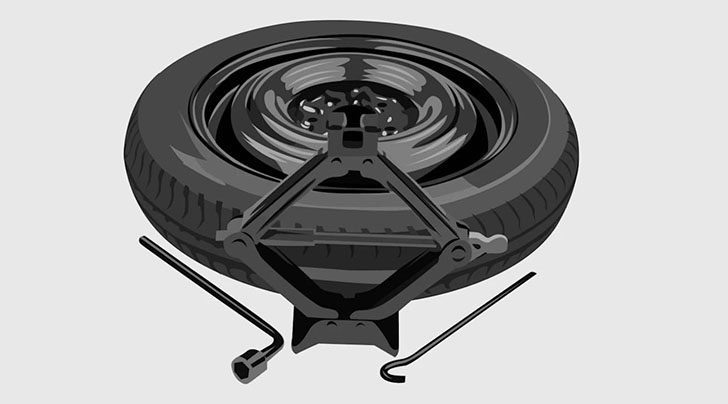 Genuine Kia accessory
Tire size: 17-inches
Compatible with vehicles with 17-inch or 18-inch factory wheels
The kit above (yellow button) is compatible with gas powered Optima model!
Fits Kia Optima models: 2020, 2019, 2018, 2017
If you own Kia Optima hybrid or plug-in hybrid model, go with this spare tire kit here.
Spare tire kit good for Kia Optima hybrid?
If you own the latest generation of Kia Optima hybrid car (or PHEV), check the spare tire kit from the red square box above. Click the link "here" and you'll be guided to the proper spare tire kit for Kia Optima hybrid car.
If you drive a regular, gas-powered Optima follow the link in the yellow button above!
Is this a quality spare tire kit?
This is a genuine Kia accessory, so you don't have to worry about it somehow not being compatible with your Kia Optima.
In the set, you get the donut (spare) tire, a steel wheel, jack, a handy tool kit, and a hard foam organizer.
That is, essentially, everything you need to quickly get your vehicle back on the road after a flat.
Is it worth the money?
This really is a small price to pay when you compare it to how much you would have to pay for a tow truck which would get you to the nearest tire shop.
It's always best to play it safe when you drive, and a quality spare tire kit is one way to do that.