Kia plan to launch the Optima hybrid car in Europe.
The newly upgraded Kia Optima Hybrid was officially unveiled today at the Geneva Motor Show.
This marks the first appearance in Europe for the saloon that comes with an impressive drag coefficient of a mere Cd 0.26.
On a design front, the new Optima Hybrid has newly designed bumpers in front and back.
The front bumper features a revised look to the signature Tiger Nose grille, as well as the addition of four-spot LED fog lamps.
A side-skill garnish gives the side profile a new look, as do the addition of a wing garnish and the option of 5-spoke 16- and 17- inch alloy wheels.
A new eco-hybrid badge can be found around back, where the bumper has a hidden tailpipe and a black lower section.
New Kia Optima hybrid photos
The upgraded model comes with a White Package option for the interior, which will given them white upholstery that is set off by gloss black accents in the cabin.
A pair of exterior paint finishes – Smoky Blue and Aluminum Silver – have also been added to the original three colors, which are Snow White Pearl, Aurora Black and Bright Silver.
The Optima Hybrid will once again only be made available as a left-hand drive, and will come with a host of new features.
They include new touchscreen interface specific to the Hybrid system, an 8-inch display for the navigation system, iPod connectivity, ventilated front seats and air vents in the rear of the cabin.
There is also the option for a High Tech Package that adds Lane Keep Assist, Blind Spot Detection, and Smart Parking Assist systems into the mix.
New regenerative braking system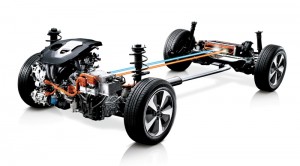 The upgraded Optima Hybrid also gets Kia's third-gen regenerative braking system.
The latest version of the system weight in at 1.2 kg lighter than the outgoing, as well as being faster, thanks to a new iBAU (Integrated Brake Actuation Unit).
That addition shaves 1.7 meters off the braking distance when travelling 62 mph.
Hybrid powertrain specs
The petrol-electric hybrid powertrain remains unchanged from the previous version. The 35 kW electric motor and 2.0-liter engine combine to produce 177 ps at 5,500 rpm and 319 Nm of torque between 1,000 and 2,000 rpm.
The performance delivered by the Optima Hybrid is nothing short of remarkable at 0-62mph in 9.4 sec, top speed 118 mph, as well as fuel economy at 5.1L/100km, not to mention low CO2 emissions.
Production of the vehicle will kick off in Korea this April, with the Optima Hybrid available for sale across Europe later this year.