Word out of Kia headquarters is that they are working on a version of the Optima that can best be described as high-powered!
The vehicle will be known as the Optima GT, and will be their first foray into the performance market in Europe (set for release in 2016).
Visitors to the Frankfurt Motor Show will get to see the Optima GT in the flesh, as well as the European-spec version of the standard Optima sedan.
The release of the Optima GT is Kia's way of selling the brand to an audience that prefers performance vehicles over all others.
Kia Optima GT incorporates sportier styling
The Optima has already built a reputation for being one of the boldest looking cars in the segment, but expect the GT to have more of an athletic styling.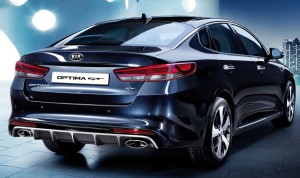 The production-ready GT will feature a redesigned tiger nose grille, a new wheel design, and a body style that is truly bold.
On the inside, the Optima GT will feature much of the same high-quality styling found on the standard Optima, although with more of a dynamic sense of style.
Drivers will know from the moment they step inside that this is a sporty model.
Enhanced performance, ride and handling
The more muscular styling of the GT will be matched by improved ride, handling, and performance, but not at the expense of the refinement and comfort that drivers of the Optima have come to expect.
The suspension set-up of the Kia Optima GT has been made with European roads in mind, and will come with a new electronically-controlled suspension system.
This will allow individualized damping force to be delivered to each of the 4 wheels.
Dynamic performance will be improved thanks to larger disc brakes and Kia's new rack-mounted motor-driven power steering (R-MDPS).
Under the hood, more power will be available to the GT than any other Optima model, with a 2.0L turbo GDi engine on offer.
Full technical specifications will be released closer to the date of the European launch.