Kia have done a fantastic job of filling us all in with the details of the new Optima hybrid and plug-in hybrid models.
We know what they will look like, the colors that will be available, and all the fuel ratings and specs have also been revealed.
There is a lot of information available to help you make a buying decision, but the one thing that has been missing up to this point is the official Optima hybrid pricing.
We now have some answers to the pricing question, although what we do know at this point is reserved for the 2017 Kia Optima hybrid (HEV) model alone.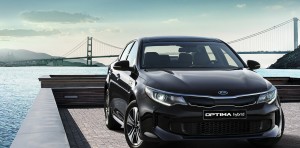 (UPDATE: we have received the pricing details of the Optima PHEV!)
There has been no official announcement in regards to pricing for the 2017 Kia Optima plug-in hybrid (PHEV) model, but we will certainly keep you up to date on the pricing for that model as soon as we know more.
The reason that Kia are so keen to get the pricing out for the Optima hybrid is because they expect it to be in showrooms before the end of this year.
Price of Kia Optima hybrid / plug-in hybrid
[table id=11 /]
Kia Optima hybrid car MSRP – 2017MY
The 2017 Kia Optima hybrid comes in a pair of distinct trim levels, and the pricing for each is $25,995 for the base Optima Hybrid, and $30,990 for the EX trim level ($850 destination fee not included!).
Each of the two Optima hybrids comes loaded with a wide number of safety and premium features, but there are also some additional ones available although at an extra cost.
2017 Optima Hybrid Convenience Package cost
You only get one available package option with the base hybrid model, which is the $1,795 Convenience Package.
This comes with a rear park assist system, 12-way power driver's seat with memory, additional USB ports, blind spot monitoring, rear cross traffic alert, and laminated front door windows.
There are two exterior colors on the 2017 Kia Optima Hybrid to choose from, and you can add special white or black hues for an additional $395.
2017 Optima Hybrid EX Technology Package cost
The top of the range EX comes with a single optional package, which is the Technology Package at a cost of $5,000.
That may seem like a lot of money, but when you look at what you get with the package, it's a good value proposition.
Included in the package are the following: LED headlights, blind spot monitors, panoramic sunroof, automatic emergency braking, adaptive cruise control, heated rear seats, air conditioned front seats, rear cross traffic alert, and more.
Conclusion
As mentioned earlier, the 2017 Kia Optima Hybrid will be available before the end of the year, and this pricing is sure to be well received.
It's a price that may well see it appear in many driveways with Christmas ribbons attached this December.