Is Kia going to launch the Sportspace concept car in U.S.?
Kia's highly-attractive SportSpace concept vehicle, which has made its public debut at this year's Geneva Motor Show, has been a major hit among the visitors of the event.
The eye-catching concept car previews the future of Kia design and suggests how the next-generation Kia vehicles may look like when they hit the showroom floor in the coming years.
Powered by the 2,0L turbocharged engine with 250 horsepower, the vehicle also reveals a new powertrain option for the high-end Kia sedans, which will soon make it to production.
The vehicle looks and powertrain technology seem production-ready, however, don't expect the SportSpace to enter the serial mass production.
At least not in the same form!
The good news, though, is the fact that the SportSpace signals the arrival of the next-generation Kia Optima model.
Set to make its official premiere at the 2015 New York Auto Show, the 2016 Optima will adopt many styling cues from the concept pictured here.
Expect the production-ready Optima sedan to incorporate a similar front fascia design, albeit a little less aggressive looking, as well as a wagon-type form.
Up until now, the Optima has only been available as a 4-door sedan, but starting from 2016, the model will also be offered as a wagon.
Latest rumors suggest Kia will only offer the Optima wagon in Europe, but favourable public response could force Kia to launch the wagon variant in other countries, too, including the USA, Asia and Australia.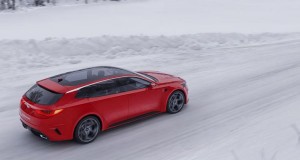 What we also know about the next-generation 2016 Kia Optima is the fact that will also be offered as a hybrid car, and additionally, as a plug-in hybrid vehicle as well.
The hybrid version of the 2016 Optima is expected to go on sale worldwide already in 2015, while the plug-in variant will reach the Kia showrooms early in 2016.
Do you still feel sorry for the SportSpace concept not making it to production?
Don't need to be!
There's the next-generation Optima just around the corner and the car will adopt many "cool" features from the SportSpace concept vehicle!