Kia is working on a facelift for the Picanto city car.
Pictured here is a Kia Picanto city car, covered with some heavy camouflage up front and rear.
It appears that the South Korean carmaker is already performing pre-production tests of a refreshed model.
Lately, we could have read numerous blog posts about Kia working on an all-electric Picanto city car.
So, it could also be that this particular prototype is actually the battery-powered model, although a pipe in the middle of the rear bumper doesn't suggest so.
The picture is indeed a little blurry, so it is not evident completely of what kind of a body part that actually is, but at first sight at least, it looks like a center-exit exhaust pipe.
What is visible from the spy picture of the Kia Picanto facelift, though, is a new set of alloy wheels. Newly-designed alloys will definitely be a part of the car's mid-cycle makeover. And so will be a revised front and rear fascias.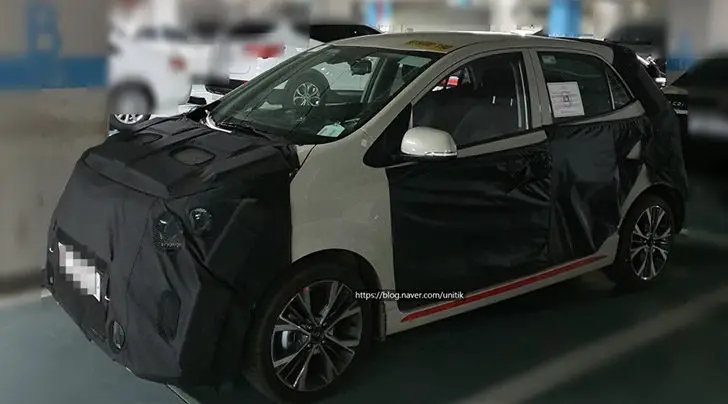 Update (Nov 8.): New spy shots of the Picanto facelift hit the web. Find them here.
Kia Picanto facelift release date
When will Kia unveil the enhanced Picanto city car? That is a question that have yet to receive a proper answer, but we strongly believe that it will take another 10-12 months before we see the car in full production form.
The currently available, third generation Kia Picanto has been on sale in Europe since 2017. If Kia follows their regular 3 and a half year cycle for upgrading the vehicles, then the enhanced Picanto will be launched at the end of 2020 or early in 2021.
Picanto electric car coming soon?
It is highly likely that with the official release of a refreshed Picanto, Kia will also launch the all-electric Picanto model.
Kia Motor Europe's chief operating officer, Emilio Herrera, recently suggested that the Picanto EV will have to happen "sooner or later".
The all-electric Picanto has to happen not only because of the tougher European emission standards, but also to stay competitive in the "city" car segment. VW, Renault and Peugeot are all on the brink of releasing small electric cars in Europe. (photo: Bobaedream)