The latest Kia Picanto is certainly a desirable supermini, with sporty styling and good levels of equipment.
There are also a host of other reasons that make this little car one of the very best choices for a first car.
This includes:
Kia Picanto warranty
The headline-grabbing seven year warranty is something which should attract many people.
If you're a new driver, and are worried about running costs, this guarantee will ensure that you never need to fear the car letting you down.
An added bonus is that long warranties tend to boost resale values, so you won't be hit with depreciation quite as much.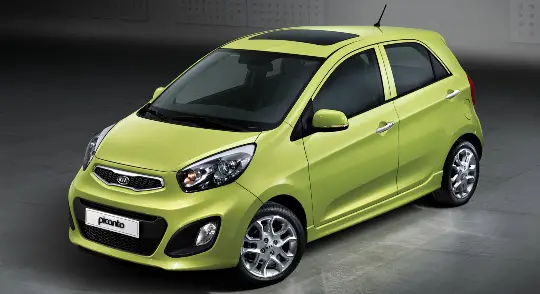 Kia Picanto car Insurance
Powered by either a 1.0L or a 1.25L engine, the Picanto benefits from low insurance prices across the whole range.
This is generally one of the biggest expenses for new drivers, but owning a Picanto will keep the costs down, even if you've only just passed your test or are still a learner driver.
Tax
In countries such as the UK, where road taxes are based on emission levels, fees can get very high.
Both Picanto engines have very low emissions, which mean that taxes are also low, unlike with gas-guzzlers.
Fuel Economy
Lower emissions mean better fuel economy. The new Kia Picanto can easily achieve 50mpg, keeping running costs right down.
Kia claims that even 70mpg is possible, though this is likely only going to be achievable when cruising at moderate speeds on a highway.
Driveability
Being a car of small proportions means that the Picanto is easy to manoeuvre and park, which is especially important when you're a new driver.
Large windows and plenty of interior space also help to make driving pleasant and comfortable.
Tests and Learning
One thing you might not have considered is how useful a car is for when you learn for and take your driving test.
The Picanto's great visibility and tiny turning circle makes it ideal for practical tests.
There's also the theory test to take, and if you're comfortable driving, you're more likely to take in all of the rules of the road. You can now book your theory test online if you feel ready.
If you're looking for your first car, then there really are no better alternatives than a Picanto, it's cheap to run, easy to drive, reliable and looks great too.
The 1.25L (Kia Picanto) is the model to go for, as it has better performance without sacrificing much economy or costing much more to insure. Both new and used ones are available at great prices.