Kia of USA announces the arrival of the 2017 Rio 5-door hatchback and 2017 Rio 4-door sedan.
Both Kia models carry over into the new model year with minor tweaks and changes.
The automaker's entry-level car in the U.S. market continues to deliver a tremendous value, world-class exterior and interior styling, competitive fuel economy and up-to-date safety tech.
Changes of 2017 Kia Rio
There are no major changes to report.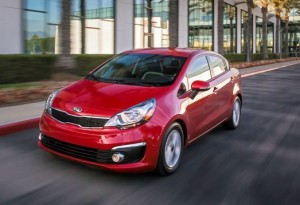 Exterior styling remains the same as previously and so does the engine range.
The 2017 Rio 5-door comes available with only one engine and that is the 1,6L GDI 4-cylinder engine that generates 138 horsepower. Mated to the highly efficient petrol engine is the 6-speed automatic transmission.
The 2017 Rio sedan offers the same engine but two transmissions, the 6-speed manual or 6-speed automatic unit.
2017 Rio colors
There has been a minor change in the 2017 Kia Rio color palette.
Kia has discontinued the Digital Yellow exterior paint color on all trim levels and added red and black exterior color choices for the base 2017 Rio LX trim.
2017 Kia Rio 5 mpg figures
| | |
| --- | --- |
| LX: | 27/36/30 (AT) |
| EX: | 27/36/30 (AT) |
| SX: | 27/36/30 (AT) |
2017 Kia Rio 4 door sedan mpg
| | |
| --- | --- |
| LX: | 27/36/31 (MT); 27/36/30 (AT) |
| EX: | 27/36/30 (AT) |
Rio dealership arrival
The 2017 Kia Rio is on sale at your local Kia dealerships now.
Feel free to check their official websites and learn more about the latest Kia Rio deals and offers.