The next generation 2018 Kia Rio, currently in development with the YB internal code name, is just around the corner.
And Kia is teasing us with look of the fourth generation model by releasing some official image renderings.
This is good news for those of us who have grown a little tired of seeing the 2018 Rio spy shots of the vehicle in camouflage.
While we won't actually get to see the real thing until the Paris Motor Show in late September, the official 2018 Kia Rio redesign renders have more than enough details to get us a little excited about the new look.
2018 Kia Rio teaser shots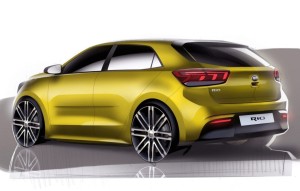 There is a more aggressive look to the front end, courtesy of a longer hood and a new headlight set-up.
The lights have one projector for high and low beam situated right by the turn signal. LED DRL's sit above the projectors, helping add to that aggressive new face.
The grille is still as large as always, but the fog lights have been given a new shape. Around back, it looks as though newly shaped LED taillights are now in place.
The side mirrors have been moved to the bottom of the A-pillar, and the C-pillar has an updated look.
The upcoming 2018 Kia Rio will come with a host of new safety and connectivity features on board.
Most of the design work for the new model took place at the design centers in California and Germany, but there was also some input from the Koreans too.
Production will begin towards the end of this year, while the announcement about the 2018 Rio release date in other regions is set for the official launch event.
Kia Rio 2018 engine, specs
There is no word yet on the powertrain for this version of the Rio, but the smart money would have it being the 1.6-liter GDi engine.
There are some rumors of a new forced induction engine being a possibility, and there's also talk of a 1.4-liter turbo engine. We will give you all the news about the new Kia Rio 2018 – model year – as we get it.