Kia Rio review: 1.4L CRDI diesel engine, Idle Stop & Go (ISG) system.
For most small cars economy isn't really an issue with great fuel economy from a high output low capacity engine in a small lightweight body combining to give excellent mile per gallon figures, and at today's monstrous fuel prices that can only be good.
But. What if you could do better?
Well you don't necessarily need to go all green crazy and move into a horrid hybrid machine, these days there are many other options to shrink your weekly fuel bill, especially for fleet buyers.
One of those options is the Kia Rio LX 1.4 litre CRDI diesel with ISG (Idle Stop & Go) and a 6-speed manual gearbox.
Small 1,4L diesel engine + ISG = great fuel economy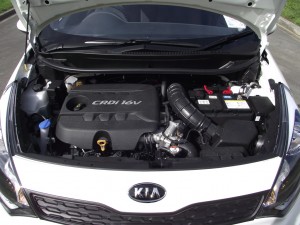 Whilst it seems silly to have a diesel engine in a small car, after all, why would you bother, they already get such great fuel economy surely an oil burner engine wouldn't make that much of a difference would it?
Well, yes it would especially if you are to combine it with Kia's fantastic ISG system.
The Rio already gets a great 6.4 litres per 100 kilometres (36.7mpg) for the automatic and a brilliant 5.3ltr/100k (44.3mpg) for the manual.
What the combination of the ISG and the diesel power plant does is reduce that to a hybrid thumping 3.6 litres per 100k (65.33mpg)! Absolutely incredible!
The Kia Rio always had my heart with its great looks and aggressive stance.
Performance, whilst not sports car like or mind blowing, it certainly was no slouch and is a great daily driver.
The manual gearbox option offered a much more involved drive and enabled the driver to make the most of the 1.4 litres' 80kw (around 107hp) of power where one could be seen to have a huge grin after driving a twisty back country road.
Now the diesel option can make that smile ever greater.
Okay, so the diesel only has 66kW (around 88hp) compared its petrol cousin, but so what, it really doesn't matter when you have a massive 220Nm of torque at your disposal compared to only 137Nm.
Keep the rev counter in the 1750 to 2750 range and there is enough power to launch the Rio from corner to corner as well as most sports cars on the market today!
New Kia Rio diesel photos
The only big failing for a small car using a great, well refined and economical engine like this in New Zealand is Road User Charges.
Our wonderful government many years ago thought it would be wise to slap a tax on diesel vehicles as, at the time, they were on the roads more than most normal passenger cars delivering goods from one location to another.
Unfortunately, as diesel technology improved and found its way into passenger cars, the tax stuck to all vehicles using the oil burning power options.
This basically negates any financial gain made by having a more economical engine using a fuel that is sold for a much cheaper price.
In an ideal time in the hopefully not too distant future the government will remove such taxes from passenger vehicles.
When that day comes more and more people will be buying more and more diesel cars like the fantastic Kia Rio LX.
Important note:
the review here refers to the New Zealand spec Kia Rio
the 1,4L CRDI four-cylinder engine is available in New Zealand and Europe!