Things you need to know about the factory spare tire kit for Kia Rio.
Living in the city means usually having decent roads to ride on, but you never know when a nasty pothole or piece of debris is going to show up and deflate the tire on your car.
The question that you have to ask yourself is if you are prepared for just such an eventuality.
If you are a Kia Rio owner and you don't have a spare tire in the trunk, it might be time to make a little investment.
Sometimes all you really need is a mini spare tire that will get you where you need to go in order to get a fresh new one installed.
Cost of Kia Rio spare tire kit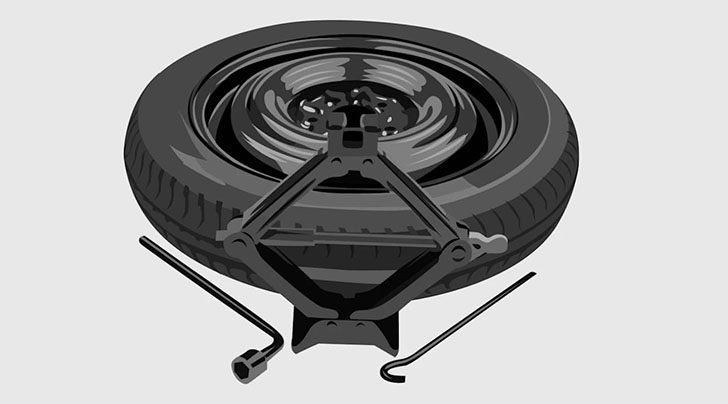 —–
—–
Included in the kit: donut tire, steel wheel, jack, tool kit, and jack/tool cases
Genuine Kia accessory
Size: 15-inch temporary tire
Fits all Rio models with 15-inch or 17-inch tires
this spare tire kit fits the following models: 2021, 2020, 2019, 2018, 2017, 2016, 2015, 2014, 2013, 2012
Kia Rio spare tire kit facts
What you may be surprised to learn is that a Kia Rio spare tire kit is not as big an investment as you might have imagined. It's also something that you can use more than once, although we would hope that you aren't blowing out tires left, right, and center.
As you could have read in the specifications above, this particular flat tire kit is good for all Kia Rio models that ride on 15-inch and 17-inch tires.
The kit comes with the donut tire, a steel wheel, a jack, a tool kit, and a cool little case to place all those tools in.
The one thing that isn't listed on the list of things you get with it, but which should be, is peace of mind!
Q&A about the Rio spare tire kit
1. Does this product fit the 2016 Kia Rio 5-door hatchback with 15-inch tires?
Answer: Yes it does!
2. What is the tire size?
Answer: The tire size is: T125/80D15