Kia Motors Corporation has today released another teaser image of their upcoming 2015 Sedona minivan!
This is already the second teaser image that the automaker has released to the public.
The first teaser image has revealed Kia's updated front-end styling that will be applied to all future models, while their second image reveals the side profile of the all-new Sedona MPV.
The new Sedona appears to be sleeker and slightly more angular than the current model.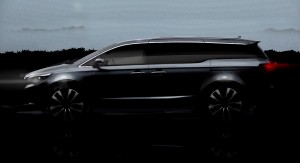 It features a more distinctive "tiger nose" grille, sweeping LED headlights, higher waistline, restyled alloy wheels and rear sliding doors.
Styling-wise, the new exterior styling is a radical departure frmo the current model's design, while Kia states the redesigned model sets new design standards in the large minivan segment!
2015 Sedona Launch Date
Set to make its official public premiere at the New York Auto Show on April 16., the 2015 Kia Sedona rides on a brand-new platform, while the power comes from the automaker's highly-advanced 3,3L V6 GDI engine.
The direct injected V6 engine replaces the 3.5-liter V6 units in the current 2014 Sedona MPV.
Official powertrain details and engine specs are still limited, however, you can expect the V6 engine, which is also available in the 2015 Sorento, to generate around 290 horsepower and 252 lb-ft of torque.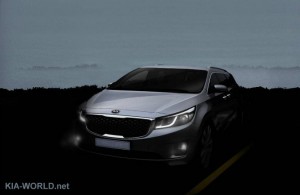 According to the automaker's most recent official press release, the redesigned Sedona MPV hosts a plethora of innovative infotainment technology systems and up-to-date safety features, including the next-generation UVO infotainment and telematics system.
Latest Kia Press Release Contains The Following Information
1. Official public premiere at 2014 New York International Auto Show!
2. To be powered by a 3.3L V6 gasoline direct injection -GDi engine!
3. To feature next-generation UVO infotainment and telematics systems
Official Release Date, Sales
As we mentioned earlier in the news article, the 2015 Sedona will be officially unveiled at the New York Auto Show next week, while sales in the USA are expected to commence before the end of 2014.
Stay tuned for more news on next-generation Kia Sedona MPV!!