New York City was the venue for Kia's recent unveiling of the 2015 Sedona MPV.
What you notice right away is that it looks more like a CUV than a van, thanks to some rather creative European-inspired design both inside and out.
Kia has been able to build their brand by delivering redesigns that end up being significantly better than what came before.
That means upscale designs and state of the art technology across the board.
Tires / Wheels
235/65R-17 steel and alloy wheels
235/60R-18 alloy wheels
235/55R-19 alloy wheels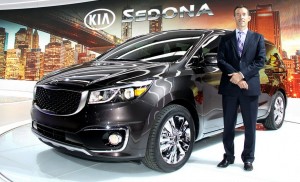 The CUV style is accentuated by a wide stance and a cab-forward design that are meant to convey confidence and strength.
The signature Kia grille is also in place, as are headlamps featuring LED positioning lights.
The wheelbase is a little longer than the outgoing model, while the profile features reduced overhangs and the availability of 19-inch alloy wheels.
Around back you will find LED taillights, an integrated bumper guard, and a standard roof spoiler, all of which create a very distinctive look.
Engine Specifications
3.3L V6 GDI – gasoline direct injection
Displacement: 3,342 cc
Bore x Stroke (mm): 92mm x 83.8 mm
Compression Ratio: 11,5
Horsepower: 276 horsepower at 6,000 rpm
Torque: 248 lb-ft @ 5,200 rpm
Under the hood there us a Lambda Gasoline Direct Injection (GDI) 3.3L V6 that delivers more power than the 3.5L V6 it replaces.
The engine is mated to a 6-speed automatic that takes all that torque an efficiently delivers it to the street.
The chassis on the 2015 Sedona is all-new and features static torsional stiffness that outdoes the nearest competition by 36%.
The vehicle has a lightweight design, thanks to the use of Ultra High Strength Steel across 76% of the body, which also helps deliver more safety in the event of a collision.
Transmission
Electronically controlled 6-speed automatic
Reinforced pillars have been used to add roof strength, while the overall strength and integrity of the Sedona has been improved by using adhesives and large diameter welds during construction.
There are a number of elements that go into the smooth ride, including Amplitude Selected Dampers, revised cross-member bushings in the rear, and added rear strut reinforcement.
You can also expect some real peace and quiet in the cabin thanks to the use of sound-deadening foam, double seal sliding doors, and wheel house padding.
Those additions help block out a large majority of wind and road noise.
Dimensions + Wheelbase
Overall length: 201,4 in.
Width: 78,1 in.
Height: 68.5 in.
Wheelbase: 120.5 in.
Overhang, front: 37.6 in.
Overhang, rear: 43.3 in.
There is also more space to be found inside the cabin, with shoulder and leg room improved in all three rows.
For the driver, the hip point is a little higher, which means increased outward visibility. Horizontal design cues have been used across the instrument panel to give the impression of width, while soft-touch materials are found all through the cabin.
Seating and storing configurations now have a greater level of flexibility in both the 7 and 8-seat variants.
Modern color combinations are used to create an inviting atmosphere, while a real touch of class and elegance can be found on the SXL trim, which features soft Nappa leather seating surfaces.
The front center console is unlike anything else in the segment, featuring a number of very clever storage options.
The second row features Slide-n-Stow seats to making adding extra cargo that much easier.
There is also the option of "First Class" lounge seats in the second row which can be faced rearward to create more legroom. The third row has a split folding 60/40 in-floor retractable design.