Today, we are bringing you exclusive image rendering of the all-new 2015 Kia Sedona minivan.
The teaser image was released by Kia Motors today, only two weeks before the model's official public unveiling.
Set to make its worldwide debut at the upcoming 2014 New York Auto Show, the next-generation Sedona MPV will showcase Kia's updated styling DNA which will incorporate slightly bolder and sharper styling lines.
As evident from the automaker's first official image rendering, the new Sedona sports a completely redesigned front-fascia with large "tiger-nose" signature grille and new LED daytime running lights.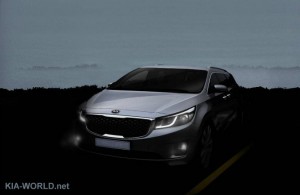 The overall exterior appearance of Kia's new family hauler is sharper than ever!
Big improvements are also expected inside the 2015 Sedona!
While Kia has yet to release the first official images of the new model's interior layout, we can already confirm that the interior too will have a distinctive styling layout.
You can actually get a sneak peak at the 2015 Sedona's interior, if you check our latest Sedona spy shots here at the Kia-world blog (click here to see the spy photos).
One of the Korean auto blogs has published a series of Sedona interior spy shots recently and those reveal pretty much every detail of the new minivan's interior layout.
Note: the prototype you'll see at the pics is a pre-production model, so the quality of materials is not of the same quality as it will be in the production-ready model!!
In regards to the powertrain technology, it is very likely that the redesigned Kia Sedona MPV will continue to offer the 3,3L V6 GDI engine, while a smaller 2,0L Turbo GDI unit may also be added to its engine range.
The Euro-market model will also gain a 2,2L CRDI diesel engine that will generate around 200 horsepower.
We expect to get our hands on a wider number of photos and full technical specs & details a few days before the model's launch at New York Auto Show (in April), so stay tuned!