We still have to wait a few more months before the 2017 Kia Sedona is officially released, with the launch potentially set to take place at the Los Angeles Auto Show.
That said, the official 2017 Sedona release date really isn't that far away, so it might be time to start thinking about why you should get into a Kia minivan.
The current model was released a couple of years back, so don't expect any major changes for the 2017 model.
We expect that the styling both inside and out will stay about the same as it looks now.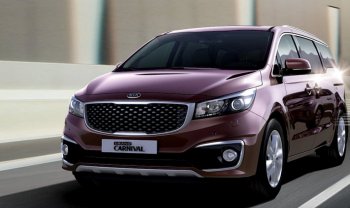 As far as engines go, there are no plans to expand the line-up, which means we will see the 3.3-liter V6 engine under the hood of the 2017 model.
2017 Kia Sedona – possible changes
enhanced trim levels
new colors added
more standard features
turbo engine (possible, but not yet confirmed)
We really would be shocked of Kia were to spring a hybrid or turbo powertrain on us at this late stage in the game.
The changes that we will see are most likely to be with the trim levels and the pricing.
If the prices so change, they will be minimal, and trim changes will likely be to add on more standard features.
There will also be some new colors to the existing palette, with there currently being 7 different exterior colors to choose from.
What will also remain is the quality of this great minivan.
The Sedona made a triumphant return two years ago, and it has certainly played a part in making Kia the first non-luxury automaker to land atop the J.D. Power and Associates Initial Quality survey.