Enhance the look of your minivan and make it more practical by getting the following Kia Sedona accessories.
It wasn't so long ago that the minivan, or MPV, was the vehicle of choice for families.
When fuel prices started to rise, people started to downsize, which was compacts started to become popular.
Once the economy started to return to normal, people wanted that MPV functionality again, albeit on a smaller scale.
That is exactly what the new Kia Sedona delivers.
From the outside, it looks like a European inspired CUV, but the interior has all the space and adjustable seating and cargo arrangements that you get from a minivan.
It's also a stronger, more technologically advanced version of the Sedona than any of its former generations.
The 2020 Sedona minivan is redesigned and fully loaded, but there are still a few aftermarket accessory parts that you can add to make it even better, and all without spending a fortune.
2020 Kia Sedona accessory parts (exterior & interior)
---
1. Splash Guards Kit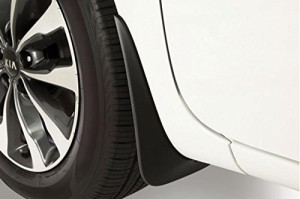 If you live in an area where rain is common, it might be a good idea to get splash guards for your Sedona.
The water and spray from your tires can find its way into many of your cars components, which can lead to corrosion over a period of time.
You can get a set of 4Kia Sedona splash guards for less than $100 online. They are easy to install and important to the integrity of your vehicle!
---
2. Rear cargo net organizer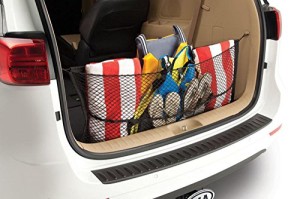 Kia Sedona comes with a ton of cargo space on the inside, but if you have a large family, there is always a need for a little more.
One way to easily add a little extra cargo space around back is with a cargo net organizer.
A quality Kia Sedona cargo net organizer is a small investment to make to have a removable space that you can add in there for trips to the beach, grocery shopping, and more.
---
3. All-weather floor mats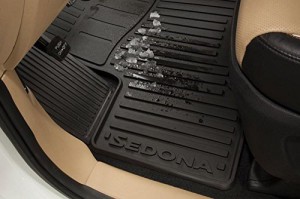 Quality interior of the Sedona minivan is one of the biggest selling points of the vehicle, so you will want to do all you can to keep it in pristine condition.
One way to prevent water and mud from being tracked in is to add a set of Kia Sedona all-weather rubber floor mats.
These are official aftermarket products which mean they are a perfect fit, and come with the Sedona logo emblazoned on them, and all for less than $200.
---
4. Carpeted trunk cargo mat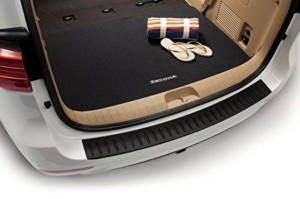 The cargo area of the trunk can get pretty messy and scuffed up without any kind of protection.
The carpeted trunk cargo mat looks great and is a perfect for your new Kia Sedona.
You can dress up the cargo area for just $95.00
---
5. Chrome window line sill moulding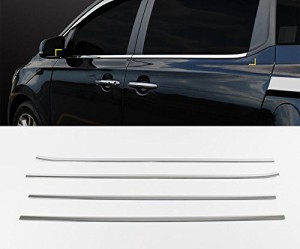 There are a few things that make the exterior of a car look more elegant than a little touch of chrome.
You may not find it on your new Sedona, but that doesn't mean you can't add a little splash.
The 4-piece chrome sill moulding comes in at less than $100, but looks like a million bucks.
You will have all that you really need when you buy this vehicle, but the accessories for Kia Sedona that we just mentioned will help you take it to a whole new level.
---