When Kia released their record November sales figures about a week ago, the company announced plans to launch the long-awaited next-generation Sedona minivan to the market.
Set to go on sale in the first quarter of 2014, the new Kia Sedona MPV will receive a major styling makeover, completely re-worked chassis and up-to-date powertrain technology.
A couple of months ago, we have shown you an exclusive rendering of the upcoming Sedona minivan and that proved to be pretty accurate.
Of course, there are some styling cues that will end up slightly different on a production model, but the general "large minivan" shape will remain the same as previewed at the designer rendering.
Latest Spy Shots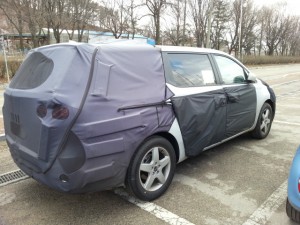 Another proof that Kia has been hard at work to launch the new 2015 Sedona minivan are the latest spy shots which showcase a heavily camouflaged Sedona prototype caught somewhere in South Korea.
The car on the pics is still full of black cladding hides which prevents us from seeing the front and rear fascia designed.
It does however allow us to see a portion of its side-line and some pieces of sheetmetal surrounding the windows.
Codenamed YP, the redesigned Sedona MPV will be inspired by the styling of the KV7 concept vehicle which was put on display at the 2011 North American International Auto Show.
The model will feature a large H-shaped signature grille, LED day time running lights, sliding rear doors, folding rear-view mirrors and a set of horizontal LED tail-lamps.
The overall design of the forth-coming 7-seat people mover follows the design identity of Kia's most recent vehicles like the Soul and Sorento.
Fresh styling, improved ride and handling, as well as up-to-date powertrain technology will help Kia to put its new Sedona against the likes of Honda Odyssey and Nissan Quest more confidently.
The overall improved 2015 Sedona minivan should also see the increase in sales from the current 1,000 units monthly to around 2,500 – 3,000 units per month. [Photosource: Carnival Club]
Next-generation Kia Sedona rendering