There has been a lot of talk, and even some controversy, over what Kia might do to the design of the next-generation Sedona minivan. 
There are plenty of people who have come to their own conclusions about what the new design may look like.
Rumors abound concerning the 2015 Sedona, with one of the most popular of those being that the new look will have several styling elements borrowed from the KV-7 concept minivan.
Others believe that it will stick with the more boxy looking, traditional minivan style, albeit with a splash of the new Kia design philosophy.
Whatever way you slice it, you can bet that there will be some definite changes to the current look of the Sedona when the 2015 model goes on display at auto shows all over the world.
NEWS ANNOUNCEMENT: New Sedona officially unveiled! Click here: http://www.thekeea.com/sedona-2015/
Sedona MPV Image Rendering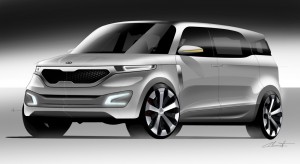 To get an idea of what it may look like, we have included a leaked designer rendering of the new Kia Sedona.
The rendered minivan has a look that is similar in style to that of the exterior design layout of the near-production Sedona, which has been seen being put through its paces in Germany.
The large tiger nose grille id flanked on either side by headlight clusters that extend all the way back to the corners of the vehicle. They also have LED technology, giving the minivan something of an upscale appearance.
That upscale attitude is further represented by LED turning signals on the side mirrors, as well as the chrome alloys found on the wheels.
This may give a better idea as to what to expect, as opposed to all the rumors flying around out there, so let us know what you think of this proposed new look.
Related Kia Sedona News
The spies have caught a near-production Sedona prototype in thw wild. The Sedona spy shots reveal how the production model will look like. Check it out at the link above.