Latest news and rumours on what changes to expect from the 2016 Kia Sedona minivan!
At this point, there are no confirmed details on when the 2016 model of the Sedona van will be launched!
What consumers should know is the fact that Kia has released a completely redesigned model a couple of months ago.
With that in mind, the 2016 Sedona model is not expected to receive any major changes in terms of exterior and interior styling.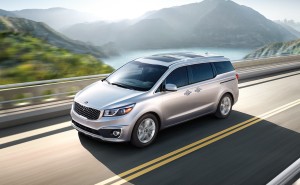 No powertrain upgrades are expected for the 2016 year, either. The sole engine choice (a 3,3L V6 GDI engine) will carry over to 2016 and beyond.
The 7- and 8-seating configurations will be kept as well!
Rumor: At some point in the not so distant future, the automaker could introduce a hybrid version of their hot-selling minivan (still a rumor, though!).
Sedona 2016 Release Date
If Kia follows their regular "new model year" vehicle cycle, the 2016 Sedona van will probably hit the dealerships across the United States during the second half of this year.
What Changes to expect For 2016:
Sedona is going to retain the eye-catching exterior design
Expect no changes "under the hood"; the V6 GDI engine stays there
Kia could make some tweaks to the existing trim levels and expand a list of standard features
The automaker may also introduce additional exterior color choices
"The 2016 Kia Sedona is expected to continue to offer attractive style, innovative technologies and up-to-date safety features!"
NOTE: None of the above-mentioned "model year" change is for granted!
We can confirm that the 2016 model will be released at some point in 2015, however, there are no confirmed details and information in this regard at this point!
We will keep you updated, so stay tuned and visit this news article in a couple of weeks to learn more about the 2016 Kia Sedona minivan changes and improvements!