While other minivans have been struggling in crash tests of late, the 2016 Kia Sedona has had no such issues, as it has received a 5-star safety rating from the NHTSA.
Kia issued a press release that revealed the rating, and a closer look at the scores contained in the release show where it scored in each category.
The Sedona scored 5 stars in all areas but one, the rollover crash test, where it got 4 stars.
The NHTSA did say that the chances of a rollover occurring were just 13%.
Kia Sedona Safety Ratings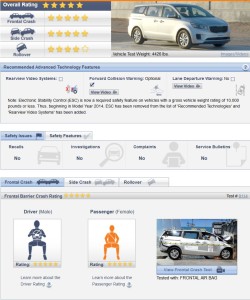 Orth Hedrick, Vice President of Product Planning for Kia, said that the rating proved just how serious Kia are about safety.
The 2015 Sedona is all new and has a CUV sense of style both inside and out.
Hedrick spoke about the time and effort that was put into the engineering and design of the vehicle, stating that the 5-star rating was proof of that hard work.
The minivans that made the press with their recent crash test issues failed the small overlap front test.
That particular test is not performed by the NHTSA, and is instead an IIHS test.
The Sedona was able to receive a "Good" rating when it was tested by the IIHS.
It received the same rating on all the other tests performed by the Insurance Institute for Highway Safety.
The all new 2015 Sedona minivan rides on a chassis that has 36% greater static torsional stiffness than the next closest competitor.
The press release also mentioned the body composition of the Sedona, which contains 76% advanced high strength steel, which helps deliver rigidity, stability, durability, and crash protection for all occupants.
Further adding to the overall strength of the vehicle is the addition of ultra-high strength steel tubes in the A-pillars.
Editor's note: Top safety ratings received during the latest crash tests; another reason why we consider the new Kia Sedona as one of the best minivans currently on sale in the USA and Canada!