The next-generation Kia Sedona has been seen in public once again, only this time with a lot less camouflage.
Earlier reports had the new Kia minivan looking similar to the KV7 concept, but these new images make it seem as though it will be more of a cross between the concept and the current 2014 Kia Sedona.
At the front, the only similarity the new Sedona has with the KV7 is the front bumper, which features set-back foglights linked to the scoop-shaped line.
This is our first view of the new headlights and are similar to those found on the new Cadenza.
They also follow the current design language adopted by Kia, with square shaped lights and LED lighting.
The grille on the Sedona looks almost identical to that of the Chrysler Town & Country, although that might just be a camouflage ploy on the part of Kia.
We believe it's safe to assume that the tiger nose grille will be present on the finished model.
The biggest KV7 styling influences can be found by looking at the profile of the next-gen Kia Sedona.
The new roofline is a little less boxy than the KV7, but it also features the same drop-down styling at the 3rd row window line, as well as a similar up-ticking beltline.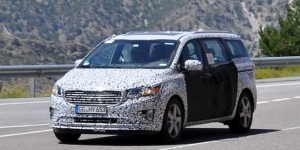 The track line of the sliding doors is not hidden on the Sedona, separating it from the likes of the Toyota Sienna and the Chrysler minivan lineup.
The rear-window shape is similar to the KV7, but the rest of the back is your standard minivan look.
The tailights are exactly what you would expect from Kia, and the liftgate looks to be more traditional than the wider opening seen on the KV7.
The new Sedona could make its US debut at the upcoming L.A. auto show in November or 2014 North American International Auto Show in Detroit. [Image Source: caradvice.com.au]
More Spy Shots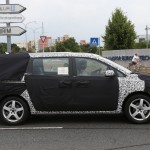 Find more spy shots of the next generation Sedona minivan or take a look at the exclusive image rendering of the Sedona MPV.