Our latest Kia owner is one that is a self-described world traveler, as he has lived in a number of different places over the years.
He now resides in California, but no matter where his home is or was, he has always had a passion for cars.
He is now employed as an aerospace systems engineer, and has a growing family that needed a vehicle to suit their lifestyle.
That vehicle ended up being the white Kia Sedona.
The Sedona minivan became the vehicle of choice because of its ability to comfortably carry 8 people, and which would be able to last at least 10 years.
The new Kia Sedona perfectly fit that bill, and the leather seat option was a must have for a family that has a pair of little kids who might still be in the spilling stage.
It certainly helped that the design of the new Kia minivan was as impressive as the features that it delivered.
While they haven't really had the chance to show their white-painted Sedona off to a lot of people, the family members who have ridden in it, all of whom were slaves to Toyota and Honda, have been impressed by the upscale design and the features delivered in the new vehicle.
There is a lot more to tell with this story, so be sure to read on to get the full interview.
Kia Sedona specs
engine: 3.3 GDI V6 Lambda gasoline/petrol
color: Snow White Pearl
trim: SXL
model year: 2016
tire size: 235/55R/19 inch
average mileage / charge: Around town (over 60% city driving), this car barely makes 300 miles on a full tank.
miles / km driven so far: 335 miles
Kia Sedona owner interview
1. Tell us something about your Kia car ownership experience so far?
I haven't driven the car enough to be able to talk extensively about it, but briefly we are quite satisfied, if not very satisfied with this Kia Sedona.
In the US, Kia's slogan is "The power to Surprise" and indeed, this Kia Sedona does surprise pretty much everyone who has seen or rode in it.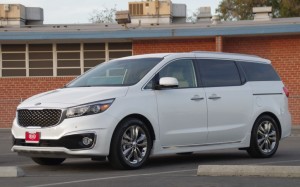 I wouldn't say the Sedona is transforming our drive, but after a drive it definitely transforms any preconception anyone has had of a Kia (Sedona) against the competition.
2. How long have you owned your Sedona van?
One month and have fueled up only once after about 300 miles since getting it.
This is our backup weekend car, so we are not and will not be putting too many miles on it just yet.
3. Honestly, what was your intention when you bought your Kia?
We wanted a minivan that would be able to haul 8 persons (including baby car seats), and it would need to last us at least 10 years.
My wife want something inside that's easy to clean (leather in preference), and she absolutely want a power lift gate in the back, since she is tiny and wouldn't have enough power to open it herself otherwise.
She didn't care so much on the brand of the minivan as long as it fit the above requirements.
As for me, I did NOT want a Toyota.
The quality and reliability of the Honda is without contest, but its look is polarizing, a love or hate thing, depending on the day and the hour…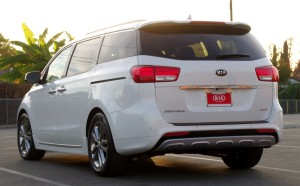 I would actually prefer the previous generation Honda Odyssey (2010), but I couldn't convince my wife to buy a used/preowned minivan.
Oh bummer! I guess we have to buy a new car then.
Truth be told, that's exactly what I was hoping: that she would be forcing us to by a brand new car, because there is conveniently one that has been on my mind for the past year or so.
Ever since I laid eyes on the new Kia Sedona's sketches, I couldn't see any other.  The Sedona is the only new minivan i could see myself driving.
The current crop of minivans on the market were either too old, too boring, not trying hard enough, or trying just too hard to aspire.
Fortunately, the latest one in the market happens to fit our bill just right.
In short, the Kia Sedona was the only one car that fitted our combined need, want, and desire, that none other could at the moment.
4. What do you like the most about the minivan?
I like the rear quarter glass panel design on the Sedona… from the C pillar to D… The rear is also handsome.
It may not "wow" anyone at first, but when you look at it, especially when comparing it with the competitors, the Sedona's rear is one of the most eye pleasing rear ends in the minivan world.
I like the steering wheel of the Sedona a lot. In fact it is so much better than my 2012 BMW, especially with the control buttons.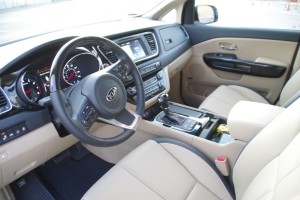 I also like how the wheels fill up the wheel wells nicely, with much less wheel gap than the competition.
This Sedona has the most flush and stance look than other minivans. The Sedona doesn't require me to find spacers. (Look at the Sienna, and you will notice how ridiculous the wheels are inward, making the van looks like school buses).
Overall the Kia Sedona is a looker, a sexy minivan dare I say. It's the swagger-er minivan!
I may sound superficial to you, and you may even say how contradictory that is for someone buying a minivan, which is supposed to be practical and less about how attractive a box can be.
Be it as it may, but isn't that also the same reason why most other people are flocking to get SUVs? Think about it.
If we all were not so concerned about forms, looks and physics, as much as function and practicality, then our automotive choices and design would be rather different.
I am not much of a SUV person/man/guy… I prefer the practicality of a minivan, but when i buy a minivan, i have to admit that i also look for a well thought out and harmonious design.
I still want my minivan to be a beautiful/pretty one.
People have been easily discreting the minivan these past few years, but the car manufacturers may in fact be the real cause of this.
Prior to the Sedona, minivans are just not attractive.  Car manufacturers maybe were purposely steering the buyers toward the new choices of crossovers.
Knowing that, and contrarily to most of the general population, I wanted a minivan, because I totally embrace driving a minivan.  I just need one that is pretty.
Jokingly, with a dash of truth, i tell people that i got married and got children so i could have reasons to buy a minivan.
Thanks to the Kia Sedona, I am a proud minivan driver, husband and father.
5. What do other people say about your Kia?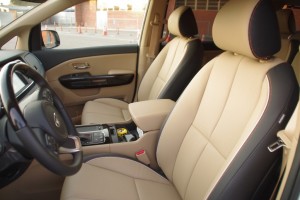 We haven't got the opportunity to show off the Sedona to most if not all of our family and friends yet.
Only my in-laws have rode in it.
God bless them, but honestly they are blind sheep following the hoard and have always been locked in buying only either Toyota or Honda all of their lives, how sad.
So when i pulled up with the Kia into the garage, they kind of have that big question mark and blank stare expression.
It wasn't until they rode in it and saw for themselves how "refined", upscaled, and the high quality and nice ride with how much features the van was packed, that they couldn't be more proud of this unexpected choice.
From then on, they were convinced right away and they will definitely give consideration to Kia's in the future.
My boss at work also approves of the Kia Sedona purchase. He was definitely and pleasantly surprised.
Especially knowing how he always jokingly disapprove of my BMW, and how "frugal" he is in his mentality… maybe that explains everything…
Hoping for more compliments to come as I will continue to showcase one of Kia's best product.
6. What is it that makes your ride look unique?
As much as I would like to think, but the combination of Snow White Pearl and "SXL" designation is not unique enough…
7. What Kia Sedona accessories have you installed so far / do you have any future plans?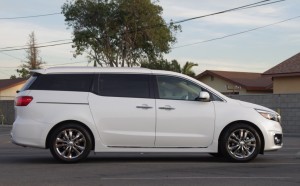 I haven't modified the van (yet), but i am considering many choices of accessories as I go through the forums and various websites including this list 😉 : https://www.thekeea.com/kia-sedona-accessory/
There is especially one mod I want to talk about, and which i wanted to do even before getting the Sedona: it was the switch to the "K" badges.
But you know what?!?
Now that we have the van, I no longer see the need for the "K badges.
This van is a testament to the quality engineering, and beautiful design of a Kia.
The KIA badge needs to remain on this van, KIA deserves it, and this van can wear proudly the family name.
I will not trade the "KIA" badges for the nameless "K", that's for sure.
In order to priority and importance, these are the Kia Sedona modifications I am considering:
Chrome Window Accent Line for the lower Sill Moldings.
Chrome Rear Trunk Bumper Accent
LED Front Turn Signal 1533L2 Power Module or LED Illuminate Turn Signal Kit
Higher capacity LED Fogs
LED Rear Reflector Modules
Retractable side steps
Even spread LED interior lights
Exterior Aero body kit (front lip, side skirt and rear diffuser) KANC-BKIX-01 from IXION
All Weather Rubber Floor Mats
Kia Sedona Splash Guards Kit
Twin Cat-Back System Tuning Muffler
Radiator Tuning Grille