It has been slightly more than a year since the facelifted Sorento was released by Kia Motors America.
The new look went way beyond the regular refresh, with a new chassis, a new V6 Gasoline Direct Injected engine, and a whole new look to the interior just a few of the changes that were made.
As we head into the 2015 model year, the Sorento continues to impress.
There are 4 different trim levels available: LX, EX, SX, and SX Limited.
Engine Specifications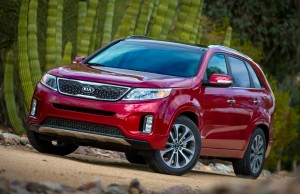 There are a pair of engines to choose from: an all-aluminum 3.3-liter GDI V6 that delivers 290 HP and 252 lb.-ft. of torque, and the incredibly fuel efficient 2.4-liter GDI 4-cylinder that delivers 191 HP and 181 lb.-ft. of torque.
The latter of the two engines has actually undergone an upgrade to be more fuel efficient than ever before.
FWD, AWD
Front wheel drive is available, as is the optional all-wheel drive – AWD, which is delivered via an enhanced Torque On Demand system that automatically sends power to the tire with the most amount of traction.
Also included is the Torque Vectoring Cornering Control, which delivers a higher level of stability in less than perfect driving conditions.
6-speed transmission
Both engine choices in the 2015 Sorento are mated to a six-speed automatic transmission as standard.
Another great standard feature is the Electric Motor Driven Power Steering, which is faster and more efficient, with a mere 2.95 turns, lock-to-lock.
The FlexSteer system has also been added, giving the driver a trio of steering modes to choose from: Comfort, Normal, and Sport.
Latest news: Kia releases pricing for the 2016 Sorento SUV.