How much does the 2016 Kia Sorento SX-L 2.0L turbo cost?
It wasn't so very long ago that Kia were considered an afterthought in the automotive industry, but with each new vehicle release, they gain more credibility.
The buying public is definitely taking notice, helped by the fact that the design and list of standard features included in these vehicles is more than just pleasing!
Kia is sure to get even more attention, and deservedly so, with the new generation Sorento crossover vehicle!
2016 Kia Sorento Engine & MPG Figures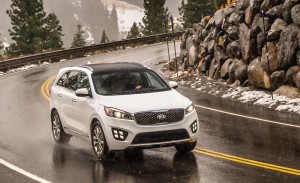 The redesigned 2016 Kia Sorento comes available with the 2.0L 4-cylinder turbo engine which cranks out 240 horsepower and 260 ft.-lb of torque.
While this may not be an engine you would take to a drag race, it is certianly more than enough to make passing at hiher speeds a breeze.
It also helps that the vehicle delivers and estimated 25 mpg on the highway!
Official mpg figures: 19 (city) / 25 (highway) / 22 (combined)
The 2016 Sorento has a wheelbase that is visibly longer than the outgoing model, but that extra length really doesn't get in the way.
The ride is as smooth as it gets, and you can get into the tightest parking spaces with very little extra effort.
On the outside, the Sorento has been given some very stylish new updates. This includes an updated front grille and LED lights in front and back.
The new ride also has a sturdier stance courtesy of strong shoulders and a longer nose up front.
2016 Kia Sorento AWD Cost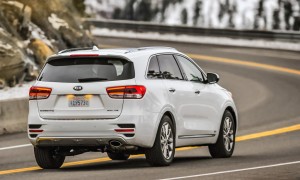 For an extra $1,800, you can get a brand-new 2016 Kia Sorento with a Dynamax all-wheel-drive system which, with the help of torque vector control, helps the Sorento tackle the roughest of terrain with ease.
The extra wheelbase length means more legroom inside, with plenty of space for 7 adults.
Among the optional features that add to the interior luxury are Nappa leather seats that can be heated, a pwer driver's seat, and a heated steering wheel.
Moving up to the SXL trim means getting a ton of standard features, including an 8-inch touchscreen.
One cool feature that may not get the credit it desrves is a USB port that has apid charge capabilities.
We now live in a world where we are joined at the hip with our mobile devices, so this is a very welcome addition.
Other features included in the 2016 Sorento include push button start and a number of small LED's in the door handle that illuminate when you approach the vehicle with the key on your person.
Technology Package Cost
The Technology Package is optional on the SX-L trim level and adds items such as:
xenon HID headlights
lane departure warning
forward collision warning
electronic parking brake
surround view monitor system when backing up
smart or adaptive cruise control
The latter (smart cruise control) is a cool feature as it helps keep you at a safe distance from the vehicles in front.
This is an excellent feature for drivers that travel a lot, and who get tired of constantly switching the cruise control off and on.
Sorento Review – Conclusion
You may not experience as much adventure as Pierce Brosnan did when driving the Sorento during the most-recent Kia Super Bowl ad, but you will get a very stylish and quality built all-wheel-drive crossover vehicle that delivers on a number of different levels.