After a "little" break, we are back with interviews of Kia owners presenting their customized Kia rides.
This time we called up Ken, who lives in the city of Lethbridge in Alberta, Canada for an interview about his beautifully customized Kia Sorento SX 2012 (Model Year).
The SX is the sporty trim introduced on Kia Sorento model in 2011. The SX trim incorporates several styling tweaks and unique features that set it apart from the LX/EX trims.
Those include restyled grill, stylish bumper with fog lights, and front/rear aluminum skid plates. Additionally, all the options in the EX models are standard on the SX.
The 2012 Sorento SX also sports different instrument cluster and has carbon fiber trim on the interior and illuminated door sills. The suspension has dual flow dampers, while ride height is about 1/2 inch lower than with the other trims. It also features mirror finished alloy rims.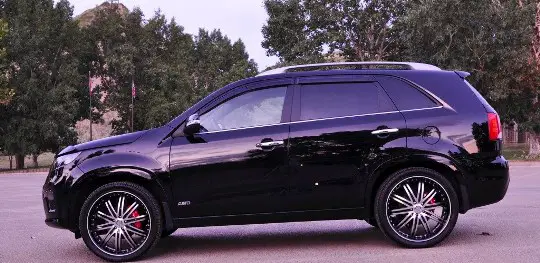 2012 Sorento SX Q&A
1. Tell us something about your Kia Sorento ownership experience?
The Sorento is great, when I was looking for a vehicle, I was test driving various suvs in its class (my criteria was affordability, styling, power, good gas mileage; space and convenience) which was really hard on other brands took me a while shopping..
When I test drove the 3rd generation Kia Sorento, I knew what i was getting.. the Sorento is amazing, I had no major problems with it; ease of use on the instruments, power when needed; all the convenience you can think about..
2. How long have you owned your 2012 Sorento SX?
I have owned my Sorento since June of 2011 as a 2012 model with the improvement of power seat on passenger side and power folding mirrors
3. Honestly, what was your intention when you bought your Kia Sorento?
Use it as a daily commuter and to be able beat sudden weather changes.. specially snow, then keep it, may trade in after 7 years depending of the incoming model
4. What do you like the most about your ride?
The the smooth peppy v6 (I beat some stock 3.5 v6 engines on other brands, felt great), then styling.. then features.. etc.
5. What is it that makes your Sorento look unique?
The lighting upgrades.. unique styling.. headlights, turn signals, interior lights
6. What accessories have you installed so far?
Lighting upgrades: headlights have quad bi-xenon retrofit with oem components, led turn signals switchbacks umnitza halo led as drl
Interior accessories: carbon fiber dash kit, red leds on foot wells (turns on/off with lock/unlock) 5630 leds on interior lights, weather beater floor mats for winter
Exterior modifications: 22-inch alloy-wheels for summer, stock 18 rims and nokian hakkapeliita R SUV winter tires, urethane cushion springs by TTC inserted to springs visors, deflectors.
7. Do you have any tuning plans for the near future?
Dont know yet… It all depends on compatibility..maybe I'll be doing my lighting upgrade and add some more accesories, like the grill…
Ted's kia Sorento SX photo gallery: