April the 1st is known to be the fools day.
A day when people make jokes out of each other or make up stories similar to that we have posted earlier today (Wind powered Kia Soul).
But rather than making fun all-day long, we are going to show you some real pictures of the brand-new Kia Sorento, that leaked to the web only a day before it's official Korean unveiling.
In case you didn't know, the 2009 Seoul Auto Show kicks off tomorrow and Kia will use the event to preview the revamped Sorento to the public for the first time!
Speaking in general, a dozen or so of new concept cars and production ready vehicles are expected to be unveiled during the auto show event. Each of the five Korean automakers, including Hyundai, Kia, GM Daewoo, Renault Samsung, and SsangYong Motor will preview at least one new model to it's domestic consumers.
Taking the front stage at the show will be the Hyundai-Kia Automotive Group with Kia making three world premieres while parent Hyundai will also exhibit several new concept cars. One of the main attractions of this year's Seoul Auto Show will most definitely be the all-new Sorento crossover, which will be displayed to the Korean car fans alongside Kia Forte hybrid and VG concept sedan.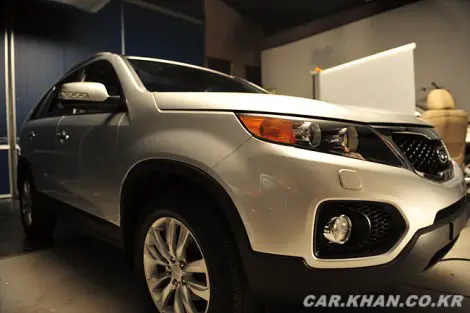 Codenamed XM, the new Kia Sorento has received a complete styling makeover on the outside and inside as well. It's attractive exterior has been penned by ex-Audi designer Peter Schreyer, who has been leading Kia's design activities since 2006 when he joined the company.
The 2010 Sorento gets a styling that no doubtly follows the design direction boldly signposted by the KND-4 concept car, we have seen debuting at the 2007 Detroit Auto Show. It's design incorporates a new face of Kia and includes the new signature grille with the shape of "tiger nose".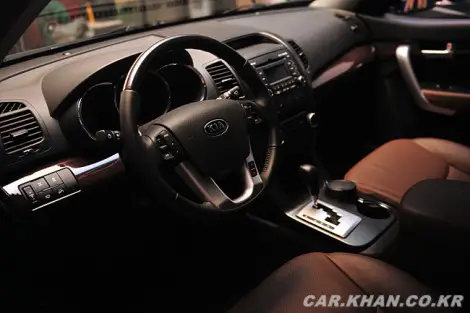 Sorento's engine line-up will include the 2.2 R-diesel engine, which packs a class leading 200 horsepower and delivers an impressive 33MPG (US), and a pair of gasoline engines:  2.4L Theta II gasoline engine with 175 hp. Once on sale in US, a 3.8 V6 Lambda engine will also be available. Also new and applied to Sorento for the first time will be an in-house developed six-speed automatic transmission.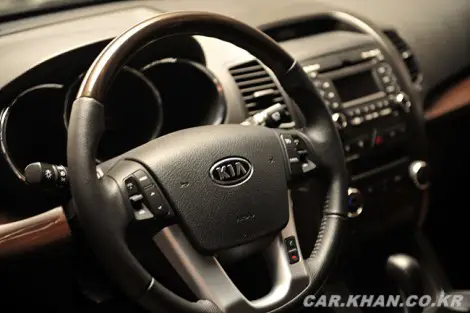 The new Sorento heralds a plethora of standard features such as ventilated front seats, navigation system, start-stop ignition button, ECO-driving system, panoramic glass roof, LED technology equipped tail-lamps, JBL sound system and many others.
These are only the initial information, with more coming up soon! Check the blog tomorrow when we expect to get more images and official information on the 2010 Kia Sorento. Until then, enjoy these beautiful pics!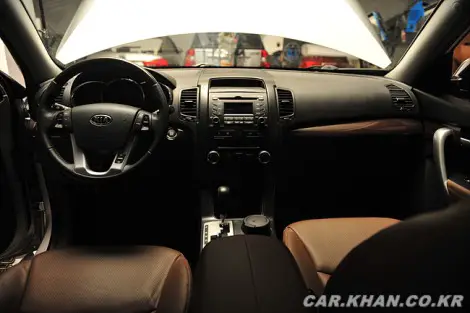 [Photo-source: Car.khan.co.kr]