First interior rendering of the 2010 Kia Sorento CUV hit the web!
Earlier today we have shown you the "front fascia" of the 2010 Kia Sorento and now, we are continuing our exclusive revealings with the first interior rendering previewing the new cabin lay-out in the new Kia Sorento.
The 2010 Kia Sorento is an all-new model, so it's exterior has seen a complete restyling in comparison to the current Sorento and the same has been expected to happen with it's interior.
As this rendering indicates, the overall cabin design (dashboard, steering-wheel, door panels, seats, etc…) will greately deviate from the current Sorento's interior (glad to see that, since the current Sorento interior already looked dated) and is expected to be a massive improvement.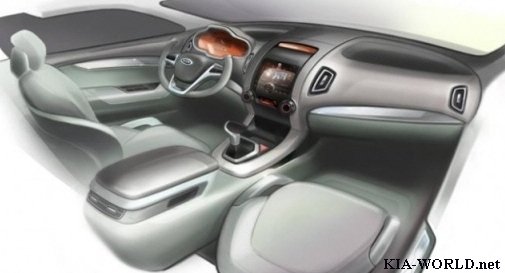 As early interior spy shots revealed, interior of the Sorento looks more modern and, according to several Kia insiders, higher quality materials should also make it look much more upmarket than before.
Due to some extra centimeters that Sorento adopted from the redesign, the cabin now offers more passenger room and reportedly, a placing for seven adult people!
Kia will officially unveil the 2010 Kia Sorento this April in South Korea at the 2009 Seoul Auto Show, while it's official US debut is scheduled for next month's New York Auto Show.