Which color of the 2022 Kia Sorento looks best in your opinion?
The US-built Kia Sorento SUV arrives for the 2022 model year with a full redesign, as well as the all-new X-Line trim level, which should help make this model even more appealing to consumers.
The new Sorento looks great both inside and out, but it also comes with updated technology and an even smoother ride, and all while staying ridiculously affordable.
The new 2022 Kia Sorento also comes with a wide range of exterior colors to choose from.
There are certainly plenty of colors to choose from, so we thought it might be fun to take a look at all those wonderful hues and perhaps make it a little easier for you to choose.
2022 Kia Sorento colors
Sapphire Blue
Passion Red Tint Coat
Crystal Beige
Sparkling Silver
Everlasting Silver
Gravity Gray
Glacial White Pearl
Ebony Black
Wolf Gray
Aruba Green – exclusive to Sorento X-Line
---
Kia Sorento 2022 exterior color options by trim levels
Here's a helpful little table that we have put together to make it easier for you to see which colors are available by trim level.
Kia
Sorento
LX
S
X-Line
S
AWD
EX
X-Line
EX
AWD
SX
SX
Prestige
X-Line
Prestige
AWD
Ebony
Black
+
+
+
+
+
+
+
+
Sparkling
Silver
+
+
+
+
+
+
+
+
Everlasting
Silver
+
+
+
+
+
+
+
+
Gravity
Gray
+
+
+
+
+
+
+
+
Glacial
White
Pearl
+
+
+
+
+
+
+
+
Passion
Red
Tint
Coat
+
+
+
+
+
+
+
/
Sapphire
Blue
/
+
/
+
/
+
+
/
Aruba
Green
/
/
/
/
+
/
/
+
Wolf
Gray
/
+
+
+
+
+
+
+
The colors available to you are dependent upon the trim level that you choose.
Right now, the 2022 Sorento has 8 distinct trim levels, starting with the base LX model, which comes with 6 different color options.
The S trim level increases the number of colors to 8, while the X-Line S AWD gives consumers 7 options to choose from. Also offering 8 different exterior colors are the higher grade 2022 Kia Sorento EX, X-Line EX AWD, SX and SX Prestige trims.
The range-topping X-Line SX Prestige AWD lowers the number of the exterior color options to 7, but features one highly exclusive paint shade.
Called Aruba Green, the color is exclusive to the fully-loaded 2022 Kia Sorento X-Line SX Prestige (and X-Line EX AWD) and it is a shade that is sure to help this model stand out from the rest of the lineup!
---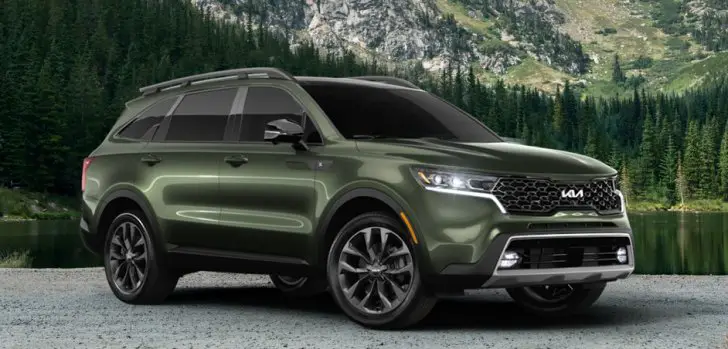 Aruba Green offered on the 2022 Kia Sorento X-Line?
The previously mentioned Sorento X-Line is a model that is going to appeal to those who enjoy the rugged outdoors.
If you add the X-Line Package to the EX Prestige or SX Prestige trim levels, you get AWD, which results in an increase of the Sorento ride height by an inch, which is helpful when venturing into rougher terrain.
This X-Line trim level aslo boasts unique bumpers, a roof rack, and alloy wheels that give it more of a rugged look than the rest of the Sorento family.
One look at the 2022 Kia Sorento X-Line and you see a vehicle that is designed to go off road!
---
Colors of Kia Sorento hybrid 2022 (MY)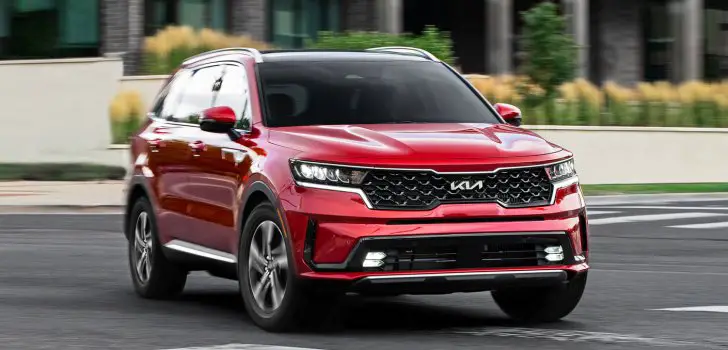 New for the 2022 model year Sorento is the addition of a hybrid model for the first time ever.
One thing to note here is that there are a total of 7 different exterior colors available for the 2022 Kia Sorento hybrid.
Here's a table that shows the exterior color availability by the trim level on the hybrid variant of the Sorento SUV.
Kia
Sorento
Hybrid
S
EX
Silky
Silver
+
+
Aurora
Black
+
+
Platinum
Graphite
+
+
Gravity
Blue
+
+
Runway
Red
+
+
Steel
Gray
+
+
Snow
White
Pearl
+
+
---
Conclusion
The 2022 Kia Sorento is a vehicle that is great to look at and even more fun to drive. With the different trim levels and the great collection of exterior colors, not to mention the new X-Line option, it's easier than ever to get into the Sorento that is perfect for your specific needs.