The 2020 Kia Sorento SUV is already on sale at the Kia dealerships near you, so let's check a couple of important specifications about it.
What people interested in purchasing a new Sorento will first see how stylish the model is. It is also a bit longer than the outgoing model and has slightly increased towing capacity.
What are the exterior dimensions of the Kia Sorento?
Exterior dimensions of 2020 Kia Sorento
The overall length of the new Kia Sorento is 187.4 inches, while the height of the vehicle, with roof rails, sits at 66.5 inches.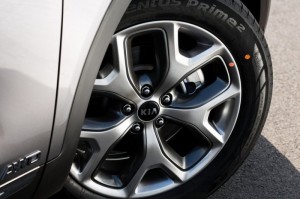 Other exterior dimensions have changed too.
The 2020 Kia Sorento wheelbase now sits at 109.4 inches, which is an increase of 3.1 inches over the previous model.
The overall width has been increased by 0.2 inches, taking it to 74.4 inches. That all adds up to a vehicle that has a ton of interior space.
One look at the profile and you'll instantly recognize this as a Sorento, but it's a more rugged version that what you might be used to. The strong shoulder and aggressive styling of the front end gives this version of the Sorrento a definite road presence.
Some will be sure to spot the pieces of inspiration pulled from the Cross GT concept and the all-new Sedona minivan, but the LED positioning lights help set this CUV apart from others in the segment.
Towing with Kia Sorento towing
The towing capacity of the 2020 Kia Sorento powered by the base 2.4L 4-cylinder engine is 2000 lbs.
The more powerful 3.3-liter V6 model, which delivers 290 horsepower, comes with either FWD or AWD system, delivering a towing capacity of 3500 lbs. and 5000 lbs., respectively.
Ground clearance of 2020 Kia Sorento
According to Kia's official specifications, the 2020 Kia Sorento ground clearance is 7.3 inches!