What's new? The 2014 Sorento gains front and rear lightning fitted with LEDs!
The hot-selling Kia Sorento crossover vehicle received a wide number of improvements for the 2014 Model Year.
While the updated Sorento may look similar to the last year's model, the 2014 model boasts refreshed front and rear fascias, as well as new chassis and gasoline direct injected – GDI V6 engine.
Kia states that the 2014 Kia Sorento features around 80 percent of new or significantly redesigned parts, which confirms the fact that the model has received a lot more than just a usual mid-cylce styling refresh.
The refreshed Kia Sorento gains more dynamic and sophisticated design elements, such as restyled tiger-nose signature grille, refreshed front and rear bumpers, new LED daytime running lights and a set of stylish 17-, 18- or 19-inch alloy wheels.
2014 Kia Sorento LED headlights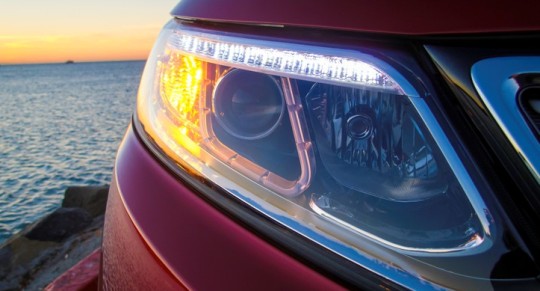 As evident from the photo above, the Sorento's new front LED daytime running lights create dramatic "eyebrow" look, while projector style headlights peer from behind tapered clear lenses.
Back at rear, a combination of horizontally positioned LED combination tail-lights surrounding the back-up lights and turn signals, provides the 2014 Kia Sorento a unique and instantly recognizable look.
The new Sorento is available in four unique trim levels: LX, EX, SX and SX Limited.
LEDs not available on base LX trim
The entry-level Sorento LX features LED tail-lights (no front LEDs), while the other three trims (EX, SX and SX limited) also add the front LED positioning lamps.
Fog lights are available on all 2014 Sorento trim levels.
Why you should buy a Sorento with higher trim level and LED headlights and rear taillamps available?
Here are a few reasons and advantages:
– LEDs are four times as efficient as halogen bulbs
– LED headlights last much longer than traditional headlights
– LED tail-lights react ten times faster than conventional bulbs
– your Kia Sorento will use less energy, which will result in lower fuel consumption and lower carbon emissions
– finally, the Sorento looks better and more iconic with front and rear LEDs!