Does the 2022 Kia Sorento come available with panoramic sunroof?
full-length one touch panoroof with sliding sunshade
Sunroof systems are available in many shapes and sizes. They are known by many different names, including the pop-up sunroofs, folding sunroofs, top-mount sliding sunroofs, moonroofs, panorama roofs, etc…
Large panoramic sunroofs appear to be the latest trend in the automobile industry with all major carmakers already offering such systems in a broad range of cars, SUVs, crossovers and minivans.
South Korean carmakers use large panoramic roofs with power shade in a large number of models, including the new Kia Sorento SUV.
The 2022 Kia Sorento, which has just recently been fully redesigned, is one of those vehicles that takes the advantage of wide openings above both the front and rear seats.
2022 Kia Sorento panoramic sunroof availability
Kia
Sorento
Sunroof
Cost
LX
Not available
/
S
Optional
$1.300
X-Line S
Optional
$1.300
EX
Optional
$1.300
X-Line EX
Standard
/
SX
Standard
/
SX-P
Standard
/
X-Line SX
Standard
/
There are 8 trim levels available and the panoramic sunroof in Kia Sorento 2022 (model year) is offered in the following trims:
The 2022 Kia Sorento LX doesn't have a panoramic sunroof
Panoramic sunroof is optional on the 2022 Sorento S, X-Line and EX trims
Range-topping Kia Sorento SX, SX-P and X-Line SX have the panorama sunroof standard
In order to get a standard panoramic sunroof in the 2022 Kia Sorento, buyers have to opt in for one of the available range-topping SX trim levels.
Lower grade S, X-line or EX models still make it possible to have the sunroof, but require upgrading to an optional Panoramic Sunroof package.
Priced $1,300, the Sorento Panoramic Sunroof package not only adds the full-length one touch panoroof with sliding sunshade, but also LED interior ambient lighting.
What does the 2020 Kia Sorento panoramic sunroof look like?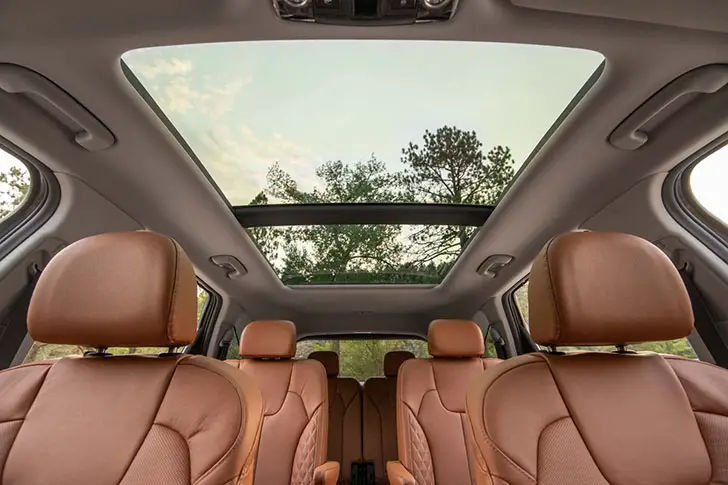 Courtesy of the official Kia US website, we have posted two images of the large panoramic sunroof in a Kia Sorento. The pictures provide a good look at the size of the panorama sunnrof.
Benefits of a panoramic sunroof in Kia Sorento
Fills entire passenger cabin with natural light during the day
Improves the feeling of space
Provides fresh air to the cabin while driving
Gives the ability to gaze at the moon and stars during the night
Disadvantages of a panoramic sunroof
Slightly more wind noise when opened
Possible high cost of repair
Possible watter leaks