Given its association with red carpet openings and Hollywood glamor, Los Angeles is certainly the perfect fit for the unveiling of the 2016 Kia Sorento CUV.
What is quickly evident is that the vehicle draws a lot of inspiration from the Cross GT concept that Kia showed off two years ago.
The vehicle has a stronger body structure, and delivers a vast improvement in NVH levels. It also delivers a level of drivability that owners of the vehicle are going to love.
Kia had a definite idea in mind when developing the Sorento crossover vehicle, which was to deliver a CUV that inspired confidence, whilst showcasing premium materials and features.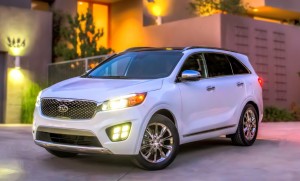 The process began with the boy structure, as Kia engineers reinforced the already stiff frame.
The pay-off here is a higher level of rigidity that makes driving in all sorts of conditions an absolute breeze.
The comfort found in the new Sorento goes beyond the use of premium materials. The reduction in NVH levels means that driver and passenger now have a cabin that is quiet and comfortable.
The 2016 Sorento really does raise the bar in the competitive midsize CUV segment.
1. Sorento dealership arrival date
As we reported earlier this year, the US consumers should expect the 2016 Sorento to hit the Kia dealer showrooms during the first quarter of 2015.
The new Sorento is now ON SALE at your local Kia dealer!
2. 2016 MY engine range & specs
There are a trio of engines to choose from in the new Kia Sorento:
brand new 2.0L turbocharged 4-cylinder
2.4L normally aspirated GDI 4-cylinder
3.3L V6
The 2.4L 4-cylinder engine comes equipped with Electronic Intake Continuously Variable Valve Timing, and cranks out 185-hp.
If you are looking for more power, move on up to the V6, which delivers a whopping 290 horsepower, as well as making it possible for you to tow up to 5,000 lbs.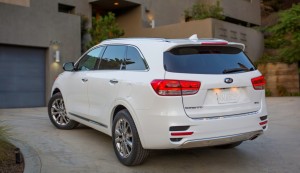 The 2.0L turbo unit slots right in between, and delivers 240-hp and a very nice level of fuel efficiency.
No matter which of the engines you choose, you will find that they are electronically controlled via a 6-speed automatic transmission featuring Sportmatic shifting.
3. FWD & AWD
The base model of the 2016 Sorento comes with front wheel drive as standard, but there is an option for an all-wheel drive system.
The AWD addition means that power is automatically routed to the wheel that has the most traction.
When road conditions get a little more treacherous, the 4WD Lock Mode evenly splits power to the front and rear drive shafts.
You also have Torque Vector Cornering Control (TVCC) helping out, as the system provides stability and prevents you from understeering under these types of conditions.
4. Safety features
The 2016 Kia Sorento comes with a laundry list of safety features, including a total of 6 airbags, as well as seatbelt anchor pre-tensioners. Since this is meant to be a family vehicle, the peace of mind delivered by these safety features is incrediblr.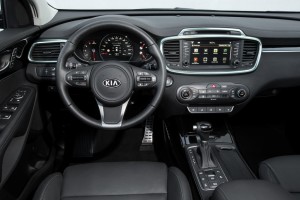 Other safety features that come standard on all Sorento models includes Electronic Stability Control, Traction Control System, Brake Assist System, Hill-start Assist Control, Electronic Brake Force Distribution and Antilock Braking System.
That's not all, though, as standard safety equipment on the AWD models includes Roll Over Mitigation and Cornering Brake Control.
Drivers looking to use the Sorento on a daily basis will love the technology that will assist them in having a perfect ride.
This includes Vehicle Stability Management, Forward Collision Warning System, Smart Cruise Control, Blind Spot Detection, Rear Cross Traffic Alert and Surround View Monitor.
5. 2016 Sorento Trim Levels & Pricing
2016 Sorento pricing have been officially announced!
The new model comes available with 5 different trim levels: L, LX, EX, SX and range-topping SX-L.
6. Color Palette
There's actually one more important thing you need to learn before purchasing a new Sorento and that is the color of the vehicle.
For the 2016 model year, the Sorento offers a palette of 9 different exterior colors. You can check them out here.