Kia has done a great job of being noticed in the automotive world by delivering a great car to each segment.
In the case of the crossover SUV, that would be the Sorento.
The vehicle comfortably seats 7, yet is still a nicely packaged midsize model.
The 2015 version of the Sorento in largely unchanged from the outgoing model, although it now comes with available V6 power and a top of the line SXL trim model.
The 2015 model also gets a nice little slice of luxury features added in.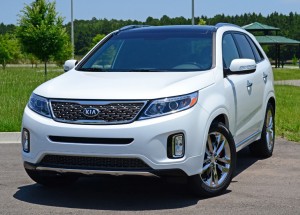 One of the surprises of the model is that it can comfortably fit 3 rows of seats in a relatively small package.
It also comes in 4 different trim levels – LX, EX, SX and SXL – each of which has a great list of standard features.
All trim level start off with seating for 5, but have an available 50/50 split bench to comfortably seat 2 more passengers.
There are 2 engines to choose from: a 2.4-liter 4-cylinder with 191 horsepower and 181 ft-lbs. of torque on the LX, and the 3.3-liter V6 for all the other trim levels.
Front wheel drive comes as standards across the board, but there is an option to add all-wheel drive, with the end result being a much smoother, some might say, luxury-style ride.
Range Topping 3,3L V6 Powered Sorento SX-L
The 3.3-liter V6 is certainly more than capable enough of delivering great performance, even when all 7 seats are occupied.
There are three distinct steering settings available – Comfort, Normal, and Sport – each of which makes the vehicle incredibly easy to handle.
The addition of 19-inch 235/55 tires gives the makes the vehicle both easy to handle and visually appealing. If you go with the V6 AWD, expect to get around 18 mpg city and 24 mpg highway.
The 4-cylinder engine found on the LX model only delivers slightly better number for fuel consumption.
The interior is largely made of quality plastic materials, but they have all been designed to look a whole lot more luxurious.
It's a little trick of the eyes that actually works like a charm, as the soft touch plastics help prevent the interior from looking cheap.
The top of the line model comes with leather seats that are beautifully put together.
Comfort is also delivered in spades, with reclining seats and plenty of legroom. There is a little less of that in the 3rd row, which is better suited for kids or smaller adults.
List Of Features
The Sorento SXL comes with a ton of features that are usually reserved for luxury models.
Besides the aforementioned leather seating, you will also find power adjustable front seats that are both heated and ventilated, keyless entry with Smart Key, 8-inch LCD touchscreen featuring a navigation system, blind-spot detection, dual-zone auto climate control, LED taillights, HID headlights, UVO eServices infotainment and telematics system, rear camera display, and a whole lot more besides.
2015 Sorento Pricing
Perhaps the most impressive thing about the 2015 Sorento is the price.
The base LX model starts at just $26,995, which is a fantastic price for a car that potentially seats 7.
At the very top end of the scale is the SXL AWD model, which comes in at $42,595 when fully loaded. (Source: automotiveaddicts)
Specifications & Dimensions
Pricing: top-of-the-range 2015 Sorento SXL AWD $42,595
Engine: 3.3-liter DOHC Direct-Injection V6 290 horsepower
Wheelbase: 106.3 inches
Length: 184.4 inches
Width: 74.2 inches
Height: 68.3 inches
Cargo volume: all-rows down/3rd row down/behind 3rd. row-72.5/36.9/9.1 cu.ft.
Max Towing: 3,500 pounds
Fuel tank: 17.4 gallons
Curb weight: 3,894 pounds
EPA mileage: 18 mpg city / 25 mpg highway