Fans and followers of the Kia brand have been waiting with eager anticipation for news regarding the release of the 2012 Kia Soul.
That big news came today, and it's all good; Kia Motors America announced that the new version of the Soul will be released at the best in class price of $13.900, the Soul A/T at $15.700, and the top of the range Soul! (exclaim) starting at under $20.000.
That's a fantastic price for a vehicle that is delivering on the promise of better fuel economy and more power.
The all-new Kia Soul 2012 Model Year has amped up the horsepower on both the 1.6L (138hp, an increase of 16) and 2.0L (now 164hp, an increase of 22), while also increasing fuel efficiency, thanks in large part to Kia's new six-speed automatic transmission and Idle Stop and Go system, to 28 mpg in the city and 35 highway, a huge selling point considering the high prices at the pump.
The updates are not just restricted to performance; the overall design has been tweaked to include a wider looking stance, as well as new headlamps, taillights, side mirrors and wheels.
Combined, the new features give the Soul a more modern, trendy look without compromising the fun aspect that made the car a huge sales success in the first place.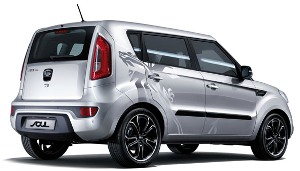 The interior also gets an upgrade with the overall ride promising to be quieter courtesy of a thicker insulation panel in the dash.
If noise is what you are looking for, then that can be attained by blasting your tunes in the voice-controlled UVO infotainment system, available on the top spec models.
Kia has been setting sales records each and every month since the beginning of the year, and with the release of the new Soul at such an affordable price, you would have to believe that trend will continure for the remainder of 2011.