The latest in our series of Kia owners takes us to the SF East Bay area and a  yellow coated Kia Soul named Sandy.
The name of the car was given by the owner who has spent a good part of her life working with animals. That includes over 20 years' experience as a veterinary technician, as well as running her own business as a house and pet sitter.
Flo was also a horse owner at one time, and needed a vehicle that could transport the animal, as well as hay bales and feed. The vehicle that she chose to do the job was the Hyundai Tucson SUV, and it was a job that it handled well.
When the horse was gone and the time came to downsize, she decides that taking a look at Kia, Hyundai's sister company, might be a good idea.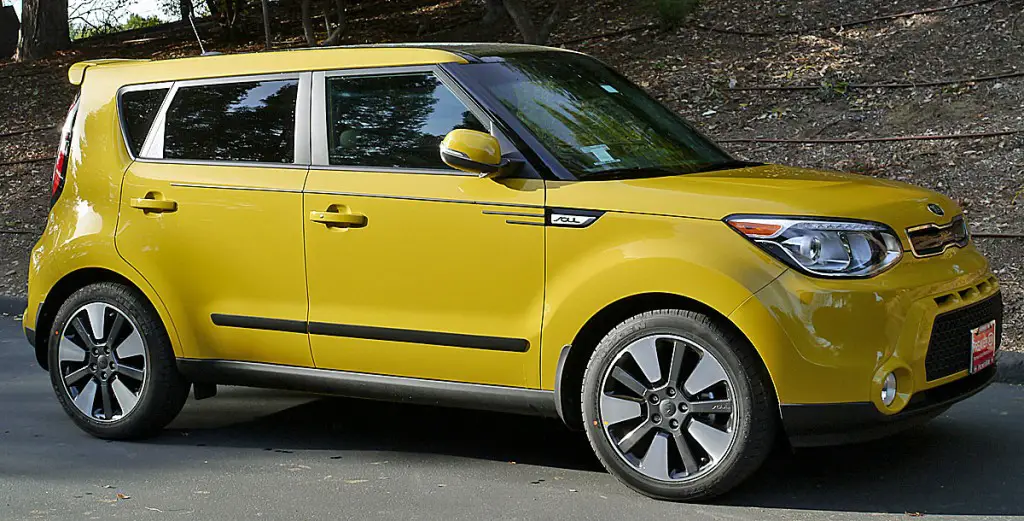 It was there that she met Sandy, the Kia Soul Exclaim that would serve as her next vehicle.
Sandy has been so good to her that she now spends a good chunk of her time participating in the Kia Soul forums. As part of that participation, she made a cool Firefox browser that has the Soul as the theme: Firefox
As for the Sandy name, that came from the name that she had for her business: Cits 4 Pets. The CITS stood for "Cowgirl in the Sand," which led to that sweet little Soul landing its new name.
Read on to find out a little more about Sandy and her happy owner.
The Soul owner interview
1. Tell us something about your Kia car ownership experience?
New to KIA ownership this year & so far 'Sandy' has been mechanically sound.
Previously had a Hyundai Tucson & had very good experience with servicing & warranty work so trusting their sister company Kia will be just as great.
Needed something very reliable as I use it for business & wanted something that was practical for carrying pets, had decent power & fairly quiet.
Not owning a horse anymore, so I did not need a vehicle to haul bales of hay or carry horse feed so wanted to downsize.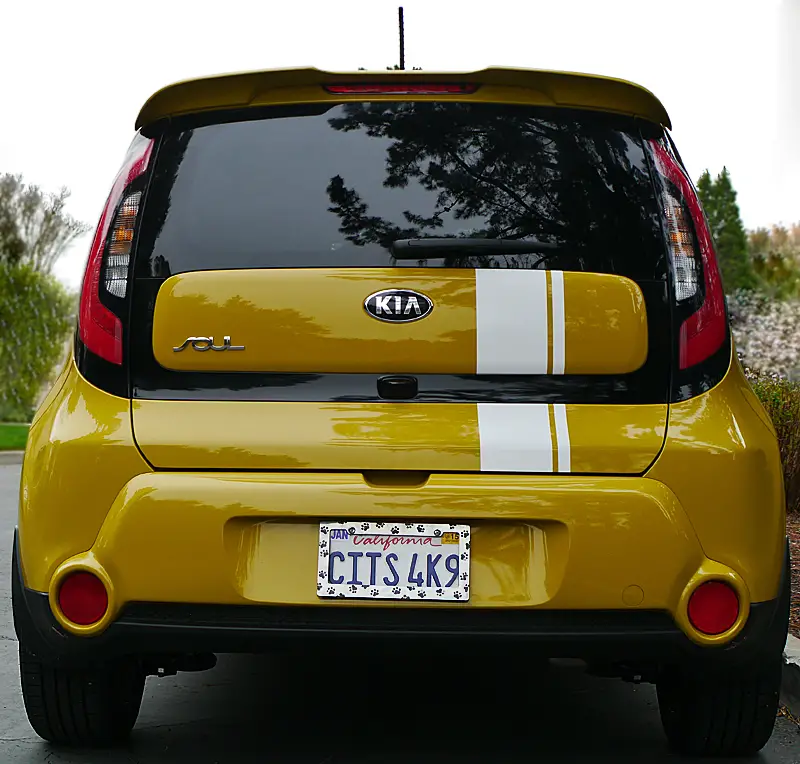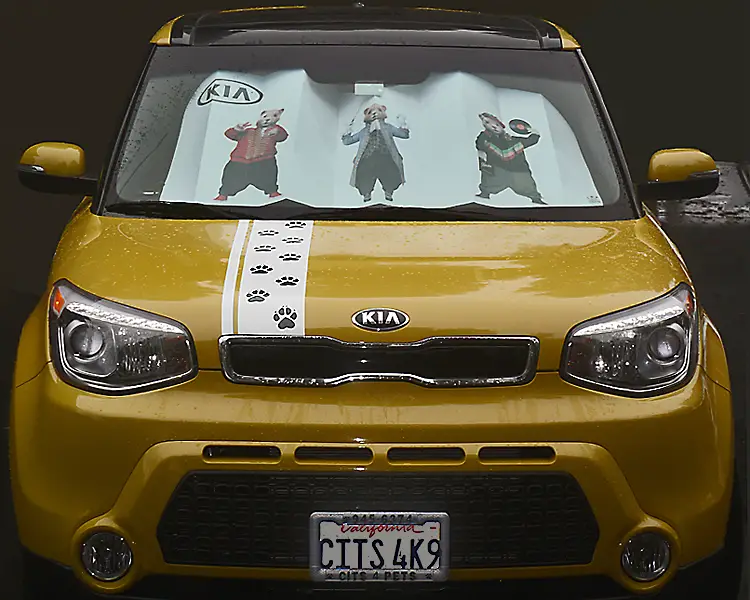 2. What do other people say about your Kia Soul?
Bright & cheery looking. Very cool looking & love the rally stripes with paw prints. Many are surprised at the high quality interior & features such as the cooled glove box, ventilated seats, that the rear seats are also heated.
3. How long have you owned your ride?
Purchased Jan. 25, 2014
4. Honestly, what was your intention when you bought your Kia Soul?
Just to get a spare temp tire, install body protection molding & mud/splash guards.
5. What do you like the most about your car?

Comfortable seats & quality of the interior, ambiance & quiet ride. Easy ingress & egress. Love the infotainment system with it's great navigation & love the fact I can download songs onto it.
Love the moon-roof & often have the sunroof open or vented. The Soul is very practical & love that if feels like a luxury vehicle and not an economy box. Best of all it is fun and it has feel good vibes & makes me feel young.
6. What is it that makes your Soul look unique?
The custom rally stripes with paw prints & the triple accent body molding.
7. What Kia Soul accessories have you installed so far / do you have any future plans?
OEM Kia parts:
Aftermarket Kia Soul accessories:
Dawn Enterprises Body Protection Molding & their Accent molding
FastSigns did the custom paw print rally stripes.
Future modifications:
Thinking of getting the exterior sun vents/visors and good quality all weather mats such as WeatherTech or 3D Kagu Spidermax mats.
Vehicle specifications
Car: Kia Soul
Model year: 2014
Engine: 2.0L GDI 4-cylinder
Exterior color: Solar Yellow
Trim: Exclaim with Whole Shabang package
Tire size: 18-inch alloy wheels with stock tires – Nexen CP671 (235 45R18)
Average mpg: 25  91% of city driving with 1-2 mile trips on freeway
Miles driven so far: 2900