Earlier this year, we have been given a strong hint at a new color choice to be available in the Kia Soul paint range.
A source close to the Kia Motors America has revealed that the upgraded Soul color palette may be getting the Caribbean Blue exterior color for the new model year.
It appears that the rumor came true and the new Kia Soul now also comes available with a flashy blue paint option!
This also means that the car's exterior color palette has been extended from 9 different choices, available at the beginning of 2014, to 10 color choices for the 2016 model year.
What we have also learned is that the new blue color option is very similar to the blue shade seen on the 2016 Kia Soul electric vehicle!
Those folks who have seen the blue-painted Soul up-close have told us that this new shade looks quite attractive and suits the Soul's youthful character rather well!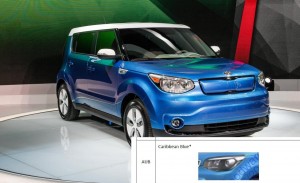 Some even rate it as one of the top-color choices for the new Kia Soul crossover!
Update:  We have published a leaked dealer document along with the photo of the Soul EV in that upcoming blue color.
It was previously expected that the blue paint, as seen on the picture above, will be available exclusively on the Soul electric car.
But now, it appears that both Soul models, the gasoline and EV, have gotten for the 2016 model year.
Kia Soul launch date
Kia has released full details about the updated Soul crossover.
As expected, the 2015 Soul model has hit your local Kia stores in the mid of this year.
What changes to expect?
With the exception of the new blue exterior color, no other major changes have been made to this iconic boxy car!