2014 saw the iconic Kia Soul get an all-new design, and as 2015 model year approaches, it would appear that it's set to get a few more enhancements, most of which are geared towards upping the fun ante.
The recent redesign gave the car a fresh look whilst retaining its distinctive boxy charm.
Three trim levels are available for the current Soul: Base, Plus, and Exclaim.
Things look set to get whole lot funkier for the 2015 Soul, with new premium amenities and driving characteristics set to make the vehicle stand out more than ever.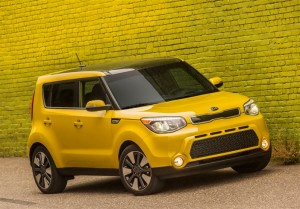 Among the new changes will be a number of new exterior colors exclusive to the Soul, such as Fathom Blue and Cloud White.
Theses vivid new colors will certainly help make the 2015 Soul stand out in a crowd.
The new Kia Soul Base model will come with a number of enhancements, which will include the UVO eServices system. Included in the system is a free subscription telematics service that is good for the warranty of the car (10 years/100,000 miles).
New additions to UVO include Geo-fencing, Speed Alert, Curfew Alert, and Driving Score. The addition of the Kia App Store means that Soul owners can get their hands on some great apps, such as Pandora, Yelp, and iHeart Radio.
The system also features a number of comfort and convenience features, such as Google Local Search, will allows users to find locations and points of interest, as well as Siri "Eyes Free."
There is also the ability to take advantage of a number of infotainment services courtesy of SiriusXM Travel Link. These include such things as current traffic, weather reports, fuel process, stock market information, and even up-to-date sports scores.
Smartphone users who have the UVO eServices app on their device will be able to access many of the aforementioned functions of the system through their phone at no extra charge.
The UVU system comes standard on the Exclaim.
Other features in the Base package include back-up camera display, front fog lights, and auto on/off headlights.
There are no changes to the 2015 Plus model.
One of the big changes for the Exclaim is the addition of an interior Umber Color Package, which can be found in the Fathom Blue or Cloud White versions.
The option package also includes premium Nappa leather seating surfaces and door armrest accents. Outside, Gloss Black wheel inserts are also found in the Umber Color Package.
The Base Soul comes with a 1.6-liter GDI 4-cylinder engine under the hood, delivering 130-horsepower and 118 lb.-ft. of torque at 4,850 rpm.
The Plus and Exclaim models are equipped with a 2.0-liter NU power plant with GDI technology, kicking out 164-horsepower and 151 lb.-ft. of torque at a 4,000 rpm. A 6-speed manual transmission is mated to the 1.6-liter engine, with an automatic as an option.
The Plus and Exclaim models are available exclusively with the six-speed automatic gearbox.
Launch Date
The 2015 Kia Soul should already be on sale at your local Kia dealership store!