Kia is issuing a recall of about 200,000 Soul and Soul EV's from the 2014 and 2015 model years.
At issue is the gas pedal, which the National Highway Traffic Safety Administration believes may break and increase the possibility of accidents occurring.
The NHTSA put out a report that states the pedal "may fracture due to bending of an unsupported section of the pedal if unanticipated excessive force is applied".
Hearing this may lead you to believe that the gas pedal will suddenly snap while you are on the highway or going through an intersection, the NHTSA report actually believes that testing has shown that the breaks come when force is applied while the vehicle is stationary.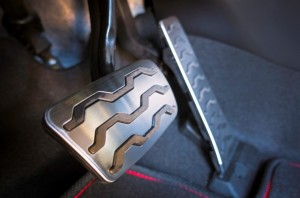 The models affected were manufactured between July 21, 2013 and January 8, 2015.
The total number of US vehicles affected by the potential problem comes in at 208,858.
Kia has indicated that recall notices will be sent out by March 24th at the latest.
Owners receiving the recall notice can have it taken care of at a Kia dealership.
Recall Solution / Free Of Charge Service
A piece of supporting rubber will be installed under the gas pedal, which will take care of the issue.
The installation will be performed free of charge.
If you are in any doubt about the issue, or have any questions, you can contact Kia customer service at 800-333-4542 and ask about recall #SC116.
You may also contact the NHTSA at 888-327-4236 and inquire about safety campaign #15V123000.
It is worth noting that Kia has stated that no accidents or injuries have occurred due to this issue.