Word out of Kia dealerships is that it won't be too long before we see a new Soul special edition model landing in showrooms across the country.
Called Kia Soul Brownstone, the vehicle will offer some fancy bells and whistles, as well as a rather unique two-tone exterior body color.
So, what exactly will it look like?
The main part of the body will be done in a brown hue, while the roof will be white. It will be given the Urban Active body kit, which means piano black and chrome accents will be used.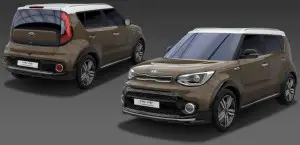 It will also come with a sportier set of alloy wheels.
On the inside, the Soul Brownstone special edition model will have brown leather seats, all of which will be heated. It will also be equipped with a heated steering wheel.
Kia Soul Brownstone special edition features
Two tone exterior color with Russet brown body and with roof
Urban Active body kit
Black Over Fenders
18-inch split spoke alloy wheels

Chrome door handles
Interior color : Brownstone leather
Interior: heated front and rear seats
Heated steering wheel
How limited will the Kia Soul Brownstone be?
There is no official word yet, but in the past, Kia have made around 2,000 units of each of their Soul limited edition models available, so we can probably expect the same here.
These, like all other special edition models, are going to go quickly, so you better get in now if you want to have it.
When can this Soul special edition model be ordered?
From what we hear, the Kia Soul Brownstone is just starting to arrive in showrooms now. It will be made available across the US, so we suggest that you get in touch with your local Kia dealer to talk about availability.
Can we expect other Kia Soul special edition models?
The Brownstone will serve as the first special edition Soul model, but we expect there will be more to come, including an Orange edition.
While this is just a guess for now, we think it's an educated one. Kia announced that the orange color would be making a comeback this year, yet it is not listed as an option on the Kia.com (official US Kia website).
That leads us to believe that a special edition in this hue will arrive at a later date.