It's no real surprise that the Kia brand started to get some real positive attention after the release of the Kia Soul eight years ago.
The boxy little beauty was an instant hit, but if there was one complaint shared by its many fans, it was that it needed a little more zip.
Kia listened, and added a 201-hp turbo engine to the top of the range Soul Exclaim.
Here are 6 more things you need to know about the 2017 Kia Soul and 2017 Soul EV
When can you get the 2017 Kia Soul?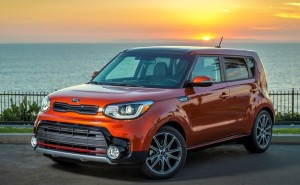 If you are looking for the base models, you can get it at just about any Kia dealership across the US.
The lower spec models landed at the start of the year, and word is that the aforementioned 2017 Soul turbo model is already starting to show up in dealerships from coast to coast.
More about the turbo engine and 7-speed DCT
This will be the first Kia Soul to ever have a turbo engine under the hood. It's a 1.6-liter unit that is part of Kia T-GDi line-up.
When mated to the 7-speed dual clutch transmission, you can expect a very peppy 201-hp.
Even better news is that this extra power doesn't come at a cost, as you still get fuel efficiency of 28 mpg, city/highway combined.
The Soul Turbo is sporty
The Soul has always been a fun car to drive, but the extra jolt of power and speedy acceleration take it to new levels.
Hard to believe, but some new design elements make an already iconic design even more playful and sporty.
These new features include red-accented body trim, unique 18-inch wheels, chrome grille surround Soul tailgate badge, and a dual chrome twin-tip exhaust, which is a first for the Soul.
Cool colors available
While the popular Solar Yellow exterior color is no longer available, the good news is that the groovy orange color will be making a return.
Before you go looking for it in showrooms now, we should let you know that the orange will likely be reserved for an upcoming Soul special edition model that Kia will unveil soon.
Your other 2017 Kia Soul color choices are brown and dark blue.
Affordable Soul pricing for everyone
Listed below are starting price points for all Kia Soul models, although it should be noted that these numbers exclude the $850 destination fee.
Base trim (1.6L, manual transmission) costs $15,990.
Base trim (1.6L, 6-speed automatic transmission) costs $17,550.
Plus trim (2.0L, 6-speed automatic gearbox) pricing start at $19,650.
Range-topping Exclaim (1,6L turbo, 7-speed DCT) MSRP starts at $22,650
Don't forget the all-electric Soul EV
While there has been no official announcement regarding the 2017 Kia Soul EV, the first wave of the all-electric Soul is still available.
What we do know is that the 2017 Soul EV will now be offered with dark gray 16-inch wheel covers on the EV and EV+ trim levels.
Another new feature on the 2017 Soul electric vehicle will be the Cloud White exterior color. You will also get a rear center armrest, as well as an audio head unit featuring rear camera display on a 5-inch color screen.