EXCLUSIVE news: 2018 Kia Soul EV to gain 30 kwh battery pack & increased driving range!
The all-electric Kia Soul EV has been on the market for around 2 years, and in that time, very little has changed with the vehicle.
Sure, there have been a couple of trim level upgrades, but nothing major. This means that the battery and powertrain are the same now as they were 2 years ago.
That is all set to change when Kia launch the 2018 Soul EV in the US market.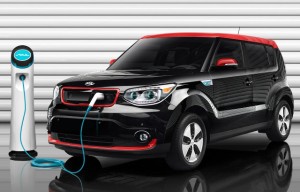 Specifically, it will be the Soul EV battery that will be getting an upgrade, if leaked documents out of Germany are to be believed.
It really was only a matter of time before the current 27 kwh battery received an upgrade, but we have been impatiently waiting for official word.
This may not have been how we expected to get it, but the blurry document out of a German Kia dealership reveals that the Kia Soul EV battery capacity will go from 27 to 30kwh (usable) on the 2018 model.
Kia Soul EV 2018 specs document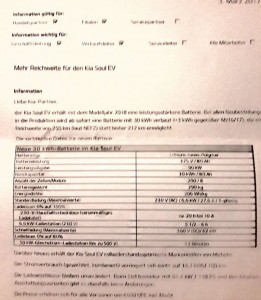 While this is by no means a huge upgrade, it is still a welcome one that will keep the Soul EV competitive in the fast evolving all-electric vehicle segment.
A bigger battery also means a longer range on a full charge.
The current Soul EV comes with a 93-mile range, but the extra capacity should see the upcoming 2018 model top the 100-mile mark.
According to the leaked document, the NEDC range increases from 212 to 250 km.
Current battery
– Rated capacity 75 Ah (37.5 * 2)
– Battery weight 277 kg
– Rated voltage: 360 V
– Number of cells: 192
 New battery
– Nominal capacity 80 Ah (40 * 2)
– Battery weight 290 kg
– Rated voltage: 375 V
– Number of cells: 200
New driving range of 2018 Kia Soul EV
NEDC range increases from 212 to 250 km
EPA range increases from 93 to 100+ miles (to be updated)
What is the official release date of the 2018 Soul EV?
There has been no word on when the 30kWh 2018 Kia Soul EV will hit the market, but our best guess is that it will be later this year.
We might well see the new model as soon as April at the New York Motor Show, or perhaps later in the year, with the LA show in November another option.
2018 Soul electric vehicle availability
The all electric Soul boxy car is currently available only at certain dealerships in:
California
Oregon
Washington
Georgia
Texas
Hawaii
New York
New Jersey
Connecticut
Maryland
There are no reports about the expanded availability of the Soul electric vehicle at this point, but that would sure do good to its U.S. market sales. Stay tuned. We will keep this Kia news post updated! (Source: Goingelectric.de)