Latest news about the 2018 Kia Soul (release date, color changes, turbo engine and AWD availability)!
Kia Soul crossover vehicle represents a major success story for the South Korean brand.
In terms of sales, the Soul CUV has been the best-selling Kia vehicle in the United States, and the top-selling model in the small crossover segment.
The current Soul model has also been ranked as tops in quality in the segment for the third straight year, so there's no wonder why it has won the hearts of so many US consumers.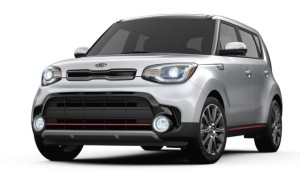 The second-generation Kia Soul has been on sale in the U.S. market for the past three years, which is why the carmaker decided to freshen up the exterior and interior by giving it a mid-cycle refresh.
Already on sale at your local dealerships, the Kia Soul facelift received minor styling tweaks inside and out, as well as several mechanical improvements.
How about the 2018 Kia Soul?
For the 2018 model year, the Soul crossover hasn't received any styling tweaks and changes! There are also no mechanical upgrades to report.
The Soul boxy car continues as a carryover model with minor enhancements to the trim levels. Let's have a look.
Kia Soul 2018 model year changes
Release date: already released in US
Dealership arrival in Canada, U.S.: first models already in
2018 Soul Plus Primo Package adds smart cruise control and autonomous emergency braking
Soul Plus Primo Lit package introduced with HID headlights and LED positioning lights
Wild Orange paint joins the 2018 Soul Plus color palette
Soul MSRP (2018MY)
Base manual gearbox: $16,100
Base automatic gearbox: $17,700
Plus: $20,300
Exclaim: $22,800
2018 Soul EV electric car
The 2018 model year has brought some changes and improvements to the all-electric Soul. It has now a slightly larger battery and increased driving range (up to 111 miles).
Soul Trailster AWD launch?
The long-awaited Soul AWD will not be launched next year as previously reported.
It's very likely that the Soul all-wheel-drive will most likely arrive to the market in 2019 when Kia unveils the third generation model.
We will keep you guys updated with all the latest news and rumors about the current generation Soul crossover, as well as the new generation Soul, which is coming in 2019. Stay tuned!