The winner of November's Kia Soul of the month competition is a proud owner of black Kia Soul with really attractive black-yellow alloy-wheels and striking decals.
We asked the owner a few questions about his ride and here are some thoughts from him.
Enjoy your read!
1. How long have you owned your Soul and what are your experiences so far?
We've had the car since August and we couldn't be more pleased. We get stopped by people asking what it is all of the time. It is also truly a pleasure to drive. Sitting at a stop light or in a parking lot, virtually anyone that sees it has to do a double take. It's quite interesting.
2. If you had to pick one thing what was it that really sold you on the Kia Soul?
I think just the unique style of the Soul. It doesn't look like anything else and it stands out in a crowd. Sharon didn't want to drive something plain.
3. Did you name your Soul?
Yes.
4. How and when did you find out about the new Soul?
TV commercial.
5. Can you tell us some interesting comments that you have heard about your ride from friends, family and other people?
People are always staring at it. Women look at the car, men look at the wheels. People ask what it is, where we got it, if it came this way etc. It's quite entertaining.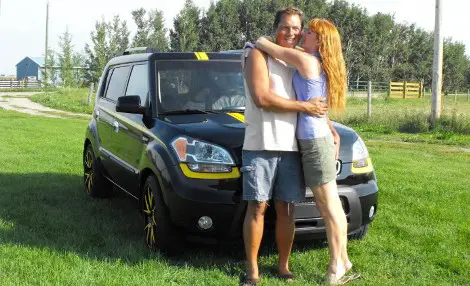 6. What are your plans as far as modifications? Are you interested in that at all?
We took the 18 inch wheels off for the winter and replaced them with 16 inch steel wheels and winter tires.
We've added a bug deflector from Kia and may entertain a wing for the back. We'll see what happens in the spring.
7. Is this your first Kia product? What vehicles have you owned before your Soul?
Sharon has had two Magentis' before. We traded the last one in for the new Soul.
8. Did you change your attitude toward Kia products since you've bought the Soul?
We still think Kia is a great product.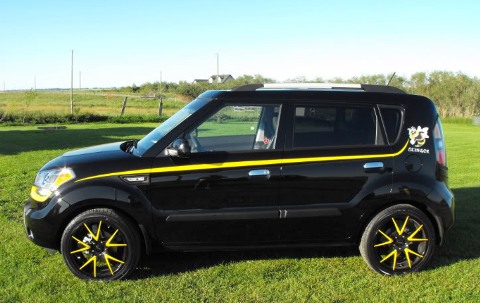 Congratulations for your win & enjoy your ride!