Great selection of the best Kia Soul hamster toys, decals and accessories!
There's a lot to love about the Kia Soul. It's a funky little crossover vehicle that features "boxy" styling, highly advanced powertrain technology and a plethora of unique aftermarket car accessories.
Perhaps the most fun and loveable product related to the Kia Soul are the hamster toys. You've probably heard of the Soul hamster commercial, right? Well, those dancing hamsters can now be bought online!
You can consider those as a fun gift to your kids or someone who drives the Soul crossover vehicle.
We have compiled a list of 5 best Kia hamster toys and accessories for your Soul.
#1. Plush Kia Soul hamster toy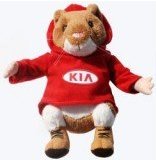 .
Check pricing and real consumer reviews here (Amazon.com)…
.
The Soul hamster is about 7-inch tall and features a Kia brand logo. Made of high grade materials!
Customer review (there are 26 more): It is adorable. I keep it in the car with me and get lots of smiles and compliments! Cool stuff!
#2 Soul hamster seat belt buddy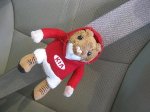 .
–> Price and real consumer reviews here…
.
Review from Amazon.com:
"Everyone that gets into the car loves it. I have one for the front seats and back seatbelts and everyone falls for them!" (Mary).
.
#3. Soul hamster windshield / sunshade
Keep your car cool!
This great-looking Kia Soul sunshade protects your car's interior from the sun and heat, while proudly featuring the loveable Soul hamsters.
–> Full details on Kia Soul hamster sunshade…
Best customer review: "My wife and I are huge Kia hamster fans, so this sun shade was an easy decision for us. Plus, not all sun shades fit all cars, universally. This one fits our 2013 Soul perfectly!" (by Relayer).
.
#4. Kia Soul Plush Hoody Hamster Key Chain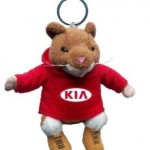 Small plush hamster keychain is a cool addition to your car. With the size of only 2.75 inch it makes the perfect companion for anyone.
This is also the cheapest one of all Kia Soul hamster toys and accessories!
We have checked the Amazon.com for top-looking Kia Soul keychain desings and created this list here.
.
#5. Soul hamster window decal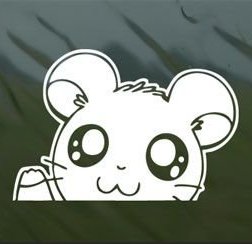 .
–> Cool hamster sticker – price & real consumer reviews
.
A very nice Kia Soul window sticker – funny hamster, which comes available in different sizes.
The store you can buy it from, states its approximately 7 inches tall x 4 inches wide. You can use it on your Soul window.
This cute Soul window decal is made of professional vinyl and has an outdoor lifespan up to 7 years in all weather conditions.
Note: Pictures and reviews published above come courtesy of Amazon.com! You can buy all of the above-mentioned hamster toys there.