They say that beauty is in the eye of the beholder, and for Todd, nothing looked more beautiful than the 2015 Soul Caribbean Blue special edition that he saw when taking his current 2014 Soul in for a regular service.
Todd, who lives with his wife and pets in Chandler, AZ, decided he couldn't leave without the new model, so the trade in was done before the oil change service was completed.
It's fair to say that Todd's is a Kia family, as his daughters were so impressed with his vehicle that they had to get in on the action.
His youngest daughter owns a Kia Rio, while his oldest daughter has a Kia Forte that she purchased last year.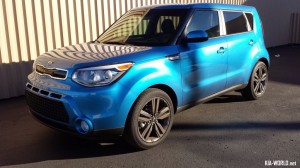 Todd tells us that his wife will be joining the Kia ranks soon, and that his mother-in-law has even hinted that she will be riding a Kia before the summer is over.
When Todd and his wife were taking their 2014 Soul in for an oil change, they spied a white Soul with pink stripes, which prompted his wife to joke that they should trade in their model for that one.
It was at that point that the special edition Caribbean Blue model with its 18-inch black alloy wheels caught the eye of Todd.
He immediately wanted to trade his 2014 Soul Plus for that one, and the wife was on board.
The sales manager overheard the conversation and was asked to see what he could do about keeping the payments the same as the current model being driven by Todd.
A few phone calls, and some car buying negotiations later, the special edition Soul was being driven off the Kia dealer lot!
Kia Soul Caribbean Blue Specifications
Exterior xolor: Caribbean Blue
Trim: Special Edition +
Model year: 2015
Tire size: 18″
Average mpg: 29.6
Miles driven so far: 1821
Soul Owner Q&A
1. Tell us something about your Kia Soul ownership experience!
I'm a new time KIA owner as of May 2014 with the purchase of my first Soul.  So far, I have loved every minute of it with no complaints.
2. What do other people say about your car / and its cool blue color?
I call it Bronco Blue as in the blue from the Denver Bronco football team here in the US.
Every time I park my Soul I at shopping center I have at least one person tell me how much like the color and how well it looks with the black rims.
3. How long have you owned your 2015 Soul?
The Caribbean Blue Soul – I have owned it for just over a month now. Prior to this, I owned a 2014 Soul Plus so it wasn't a big change going to the 2015 other than the Premium Package with Nav.
4. Honestly, what was your intention when you bought your Kia?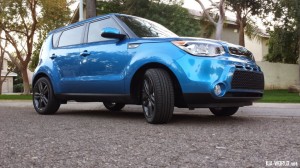 This is a funny question as I had no intention on buying the 2015 Kia Soul.
What happend was I was taking in my 2014 Soul in for it's regular scheduled oil change and ZakTek reapplication at the dealership.
The Soul was going to be in for about 3-4 hours so my wife and I decided to get some lunch and do some Christmas shopping while we waited.
As we walked out of the service center as passed a white Soul with Pink stripes on it.
My wife thought it would be a good idea to trade in the silver soul for the white and pink one (jokingly).
Through the window I saw the Caribbean Blue Soul (that was just put out onto the lot about an hour before we arrived),and said why not trade it for this one.
Tom, the sales manager near by  heard me talk about trading in the 2014.
The wife and I said jokingly if you can  keep our payments the same we can talk. He said he would see what he could do and went to lunch and a little bit of shopping.
Arrived back at the dealership from lunch Tom met us and said we can work something out.
To make this story short, after a few hours of typical car buying negotiations, we left the 2014 soul at the dealership and drove home in the 2015 Kia Soul Caribbean Blue Special Edition.
5. What do you like the most about your Soul Special Edition?
I love the way the Soul looks. When I first saw TV commercials for the souls I was sold on them. Did my internet research on the soul and when it was time to buy a car, I was ready to go.
6. What is it that makes your ride look unique?
I'm going to have to say the Caribbean blue color.
I know there was about 20 of these models here in the  Phoenix area and as of writing this there is only 2 left. I have yet to see another Caribbean on the road.
7. What accessories have you installed so far / do you have any future plans?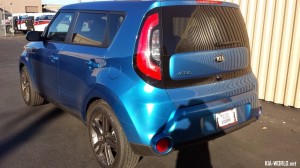 Nothing as of yet but plans are for a rear spoiler, a rear view auto dimming mirror with Home Link, soul illuminated door sill plates, sport pedals, strut tower brace, maybe a front camera like the K900 has,and hopefully and Android auto update when that becomes available.
Thanks for sharing your thoughts, Todd! Enjoy your Caribbean Blue Kia Soul!