If you have been following our Kia owner interview series, you probably remember the conversation we had with Hiram from Puerto Rico.
He was the owner of a rather brilliant looking orange Kia Soul, a vehicle that he loved and which he had already made some changes to.
When we first spoke to him, he promised that there were more aftermarket modifications to come, which is why we decided it was high time for a follow up.
True to his word, Hiram has made a number of changes to his orange-painted Kia Soul, starting with the addition of new chrome alloy wheels.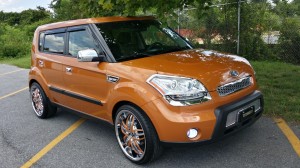 He has also added touches of chrome to the door handles and side mirrors.
That, in combination with the removal of the black racing stripes, has seen his Soul crossover car take on a more upscale look.
Other changes include switching out the original Kia logo with K-badges to make the car even more customized than before.
He has also added new headlights and a killer sound system on the inside.
After seeing all of these changes, we are pretty sure that Hiram is not yet done with the tinkering.
Kia Soul chrome accessories photos