Kia confirms electric Soul & plans to launch it in 2015!
During the most-recent Paris Auto Show, which hosted official public premieres of the all-new Kia Carens MPV and pro_cee'd hatchback, Kia confirmed it aims to launch a Soul electric vehicle.
Scheduled to hit the European market in 2014, the all-new Soul EV will be the very-first mass-exported electric Kia vehicle.
Though the all electric Soul would be the first Kia EV in Europe (and in the U.S. market), it wouldn't be the carmaker's first crack at an EV.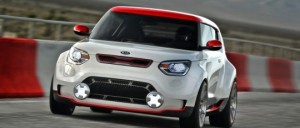 Late last year, Kia Motors put on sale the Korean market-exclusive Ray electric vehicle, powered by a 50-kw electric motor and a range of 86 miles on a single charge. The boxy Kia Ray EV was also displayed at this year's Paris Auto Show.
No other details about the forth-coming electric Soul have been released so far, however, sources close to Kia suggested that a conventionally-powered Kia Soul could debut at the 2013 Chicago Auto Show, which starts in February next year.
Several heavily-disguised prototypes of a fully-revamped Soul crossover have been spotted on European and U.S. roads, recently.
And this confirms that the next-gen Kia Soul EV is entering the final phase of  development, before it finally goes on sale next year.