Kia Soul sales booming in Europe and elsewhere in the world.
It was expected that Kia Soul will be very popular among car shoppers around the world and first reports coming from Kia indicate that it's sales are actually booming.
Especially in Europe, where Soul has been on sale since late January and has been in a great demand.
As expected, the funky Kia Soul urban crossover has seen a high demand and by now it's sales have already passed the 5.000 units mark, which represents a number that is 13 percent higher than initial Kia expectations.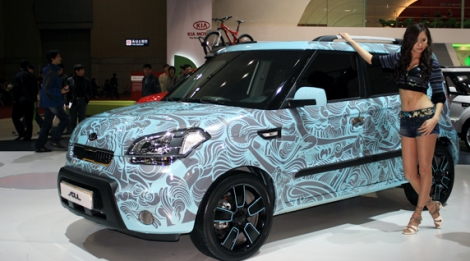 The Soul crossover, which is available in Europe with a choice of 1.6L diesel and gasoline engines that both generate 126 horsepower, has also seen a very encouraging sales start in the US market. It went officially on sale in the last days of February and during those two days of the month 46 Soul have been sold.
During March 2009, the US Soul sales has taken off and crossed the 1000 mark barrier. In March 1246 units of Soul were sold in the US market alone and when we add additional 708 units that were sold in Canada we get a number really close to 2000 units. Not bad for a newly launched car and the first full sales month!
European first quarter (2009) Kia Soul sales:
1. Germany 944 units,
2. France 914,
3. UK 520,
4. Belgium 473,
5. Netherlands 401,
6. Italy 358
The 2010 Kia Soul is expected to continue beating the current economic gloom and will continue attracting thousands of young and "young at heart" customers across the globe. If the demand keeps growing and market conditions do not worsen, Kia should be confident to sell all of it's 175.000 units the end of the year.
Large number of Souls is being assembled at Kia's Gwangju (South Korea) manufacturing plant with a maximum capacity of 135.000 units, while the rest ( additional 40.000 units) will be produced specifically for the Chinese domestic market and will come out from Kia's new China plant.